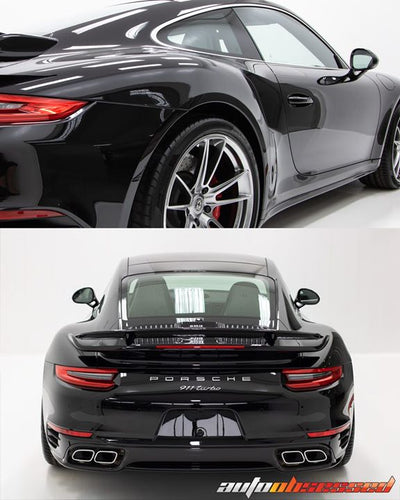 This 2019 Porsche 911 Turbo was in for a New Vehicle Prep. Cars are subjected to some pretty harsh conditions during transport from the factory. For most vehicles, dust, mud, even sand! will collect on the surfaces and crevices, creating scratches before the owner can do anything about it.
This 2019 Porsche 911 Turbo (a dream car for millions) is a perfect example of why owners invest in new-car preparation details. The car received a total interior and exterior detail. Paint correction polishing to remove scratches that occurred in transit. Paint protection clear film installed. CarPro Cquartz Professional ceramic nano coating applied to the paint and cured under UV light. The car is protected and will keep its pristine looks for years.
This amazing car looked so glossy and perfect in our Clean Room. Even more special to see it with these HRE FlowForm custom wheels. What an absolute piece of art. The owner was ecstatic with the way it looked. Talk to us about new car prep detail for your vehicle.
Check out our Projects section for more information on some of the cars that we have featured https://www.autoobsessed.com/blogs/projects