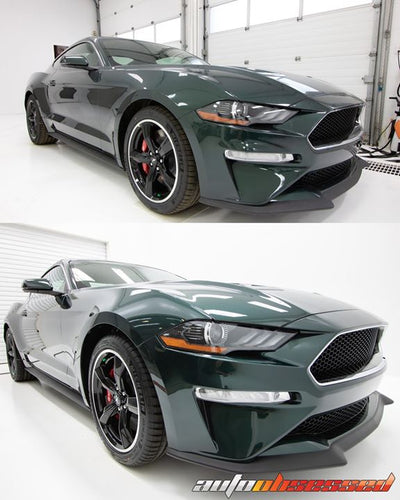 2018 Ford Mustang Bullitt at intake (above) and Clean Room (below).
The car got a total interior and exterior detail, including wheels, brakes, wheel wells, and engine compartment.
After a wash and decontamination to remove contaminants from the clear coat, we performed some spot polishing to remove several scratches and give the paint a flawless shine.
Next, the commemorative Dark Highland Green paint was covered head to toe with Xpel Ultimate clear paint protection film.
We topped the car off with a long-lasting layer of Cquartz Professional ceramic nano coating. It looks like a gleaming emerald bullet here.
Awesome car, a real treat to see a limited edition like this.
To see For more detailed information on the vehicles we worked some more of our write-ups in our projects section: https://www.autoobsessed.com/blogs/projects