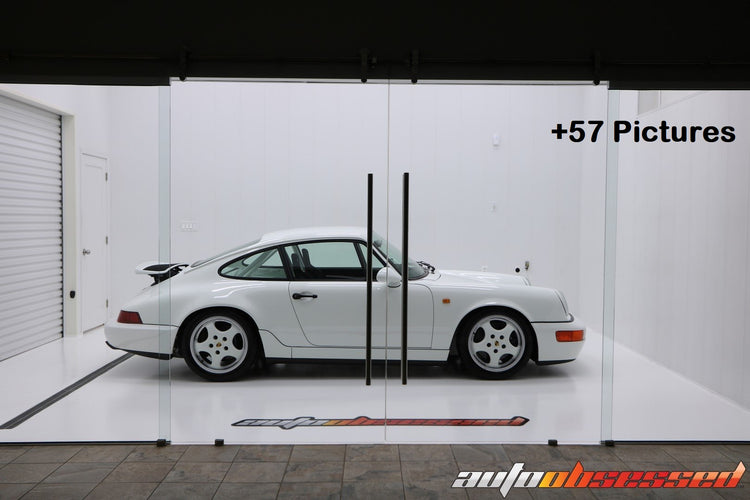 1992 Porsche 911 Carrera RS Clubsport NGT Show Prep Car Detailing
We had the opportunity to work on this extremely rare 1 of only 290 factory built, street legal race prepared cars.  This car is number 19 and is the only known 964 RS Clubsport NGT to exist with only 2000 original kilometers, never raced and completely original with the exception of fluids, battery and tires.
The 964 Carrera RS Clubsport is also known as an NGT as it was built for the National Grand Touring Circuit.  This car only weights 1220kg and is approximately 155kg lighter than the standard model, it has a stripped out interior without such luxuries of power steering, air conditioning, radio, cruise control, or power windows.  The interior also has no headliner, carpeting, sound deadening insulation, rear seat.  It is very basic with only 2 seats, door cards and one drivers side sun visor and has plywood covering for the drivers side floorboard.
Although with the lack of many interior dressings, the interior is still striking with beautiful black Nomex covered Recaro racing seats and bright red Schruth 4 point harnesses topped off with the gold Porsche Crest attracting your eyes to focus on these perfect details.  The factory installed roll bars show some serious craftsmanship with custom brackets and art like welding, painted in the Grand Prix White the same as the body colour, the lower roll bars are wrapped in black leather.  The RS Steering wheel has "RS" and "Porsche" embossed in the leather giving another eye-catching detail.
Besides the stripped-out interior there were a few other items removed or changed to lighten up the car, such as an aluminum hood with only a prop bar, decorative fog lights, magnesium rims and lug bolts.  The side glass was thinner and lighter on the doors and rear side windows.  The 3.6 liter engine has more horsepower and has a lightweight flywheel giving the car 265 instead of 246hp that the Carrera version cars had.
Porsche kept the car very stock looking and at first glance may look like a typical 964 that has a lower stance due to the suspension changes, but don't be fooled this is no typical 964.  Being around the car for just a short period of time, you will feel it's personality and be attracted to some of the simplicity but also be curious of what it would be like to take this car on the road or track and experience the pure racing heritage this car has.
The new owner had this car imported from Germany directly to Auto Obsessed for a full Show Car Prep Car Detailing.
The exterior underwent a full decontamination car wash including iron and tar removal. The wheels, wheel wells, doorjambs, exhaust, and engine bay were extensively detailed to restore the car back to near perfect condition without altering its original condition, even preserving the red paper decals on the front wheels that have remained in place for almost 30 years!
Paint imperfections were then multistage paint corrected, taking great care in measuring and recording paint depth readings on the original paint to ensure that the areas could be polished safely. The paint was then finished in one of the finest waxes available, Swissvax OBSSSSD Luxury Carnauba Show Wax. This wax enhanced the gloss which it difficult to show on white cars, we added two layers of protection to help preserve the paint but more importantly has the ability to be removed easily in the future unlike coatings which is critical for a historical car such as this NGT.
The interior, even though appears to be minimal required extensive cleaning and detailing to cover all the areas that are normally hidden by carpets and upholstery, leaving the inside with a bright, clean, crisp look just as Porsche intended.
Take a look at the picture gallery below, as well we have a video showing and explaining some the features this car has.
Model:  911 Carrera RS Clubsport NGT - 964
Make: Porsche
Year: 1992
What was done
SEE OUR VIDEO ON THIS 1992 Porsche 911 964 RS Clubsport A
Detailing Supplies used on this vehicle 
Check out our Tutorial How-To Videos for Best Detailing Practices
Over 30 Detailing Tutorials
See Tutorials
Over 300 Detailing Write-Ups available!
Over 300 Vehicle Picture Write-Ups
See More
See our HUGE Car Detailing Gallery of hundreds of cars that we have worked on in our Obsessed Detailing Studio
Over 700 Cars in our Gallery
See Gallery
SEE ALL OF OUR TUTORIAL HOW-TO VIDEO'S ON OUR YOUTUBE CHANNEL
Subscribe to our YouTube Channel
Subscribe
For more information on our Detail Obsessed Concierge Services Click Here