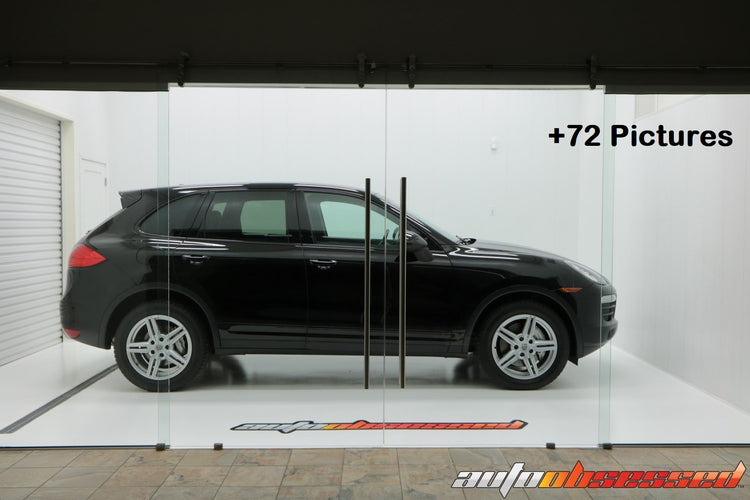 Porsche Cayenne S 2011 Car Detailing
We did an extensive restorative detail to this 2011 Porsche Cayenne S. The owner wants to prepare the car for sale. He wants it to look its best so it sells quickly and gets the maximum price.
Our goal is to bring the condition back to as close to new as we could, given that it is a 10-year-old family used vehicle.
We performed a full decontamination car wash to remove years of debris that was stuck to the vehicle's paint. We began with a pre-wash foam cannon wash to loosen the debris and make it easy to wash off. After this initial wash, we worked on iron removal (a.k.a. "rail dust") then removed the tar and other surface residue with chemical cleaners.
Since car still needed further decontamination, we then went to a mechanical process using a clay bar and clay lubricant to remove the last of the debris that was on the painted surfaces.
We removed the old paint protection film (PPF) from the front of the car. The car had PPF on the front bumper and a partial film on the front quarter of the hood. This film was on the car for 10 years and did its best to keep the areas covered from rock chips and sand blasting damage.
The paint was in pretty poor condition. A lot of swirls and scratches over almost every part of the car. We did a full 3-stage paint correction to polish out the scratches and swirls which weren't too deep. The polishing work turned this dull grey paint into a deep, amazing, wet-looking black vehicle once again.
The exterior was then prepared for the new Paint Protection Film and a Ceramic Coating. These two steps do a huge amount to preserve the exterior paint, bring up the shine, and provide much easier maintenance for many years ahead.
We apply two coats of CarPro CQuartz Finest Reserve Ceramic Coating to the exterior painted surfaces, paint protection film, head lights and tail lights. Following the application, the coating was baked onto the vehicle under IR lamps to fully cure and harden.
The interior went through a deep clean. Leather cleaning and leather conditioning were done to clean and protect the leather and give it a beautiful factory fresh look.
The end result is a decade-old car that looks awesome. Very saleable. We have no doubt that prospective buyers will be highly impressed with this Cayenne.
Model: Cayenne S
Make: Porsche
Year: 2011
What was done
Detailing Supplies used on this vehicle 
Check out  - Video 1 of our video series on this vehicle
 Check Out - Part 2 of our video series on this vehicle
 Check Out - The Finale of this video series on this vehicle
Check out our Tutorial How-To Videos for Best Detailing Practices
Over 30 Detailing Tutorials
See Tutorials
Over 300 Detailing Write-Ups available!
Over 300 Vehicle Picture Write-Ups
See More
See our HUGE Car Detailing Gallery of hundreds of cars that we have worked on in our Obsessed Detailing Studio
Over 700 Cars in our Gallery
See Gallery
SEE ALL OF OUR TUTORIAL HOW-TO VIDEO'S ON OUR YOUTUBE CHANNEL
Subscribe to our YouTube Channel
Subscribe
For more information on our Detail Obsessed Concierge Services Click Here