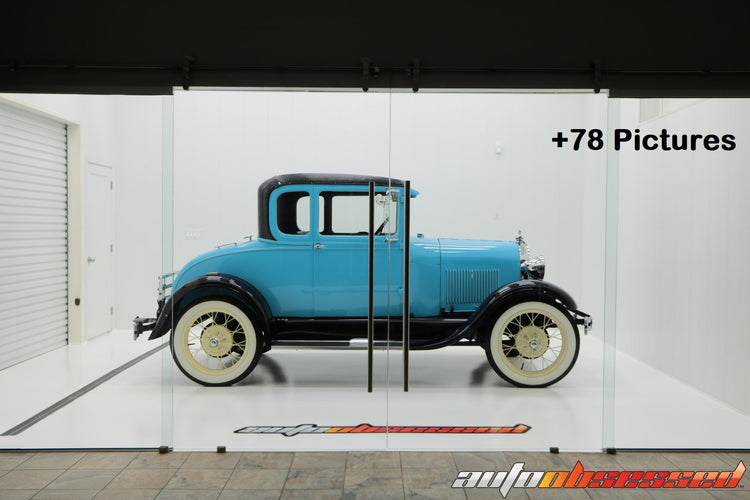 1928 Ford Model A Car Detailing
1928 Ford Model A Business Coupe
A first for Auto Obsessed to work on a car from the 20's, this car underwent a full summer prep which consisted of a decontamination car wash to remove iron, tar and any surface contaminants.  In addition we removed some paint overspray that was on most of the painted surfaces and prepared the car for a paint correction to remove small scratches and swirls to give the paint work a refresh and add a few more years to this restoration.
We cleaned the wire spoke wheels, engine bay, vinyl roof and thorough cleaned the interior area giving this car a fresher look and ensuring that it will be ready for the spring season as well protect and preserve this car for many more years ahead.  We also polished some of the chrome, aluminum and stainless steel trim and accessories adding a new level of brilliance.
After the paintwork was polished we finished the paint in of the finest carnauba waxes available, Swissvax OBSSSSD that adds a protective layer and also enhances the gloss and will make the paint much easier to maintain.
Hope you enjoy this car as much as we did, it was a real treat to be able to work on such an amazing piece of automotive history and share the car with you.
Model: A
Make: Ford
Year: 1928
What was done
SEE OUR VIDEO ON THIS 1928 Ford Model A
Detailing Supplies used on this vehicle 
Check out our Tutorial How-To Videos for Best Detailing Practices
Over 30 Detailing Tutorials
See Tutorials
Over 300 Detailing Write-Ups available!
Over 300 Vehicle Picture Write-Ups
See More
See our HUGE Car Detailing Gallery of hundreds of cars that we have worked on in our Obsessed Detailing Studio
Over 700 Cars in our Gallery
See Gallery
SEE ALL OF OUR TUTORIAL HOW-TO VIDEO'S ON OUR YOUTUBE CHANNEL
Subscribe to our YouTube Channel
Subscribe
For more information on our Detail Obsessed Concierge Services Click Here