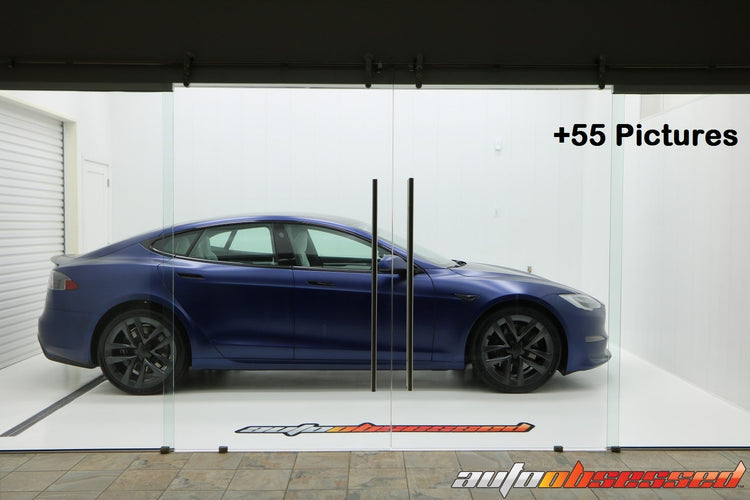 2021 Tesla Model S Plaid New Car Detailing
The owner requested that the dealership not do anything to the vehicle other than the required PDI and brought the car straight to Auto Obsessed, where we reviewed the car and went over all the details on what the owner wanted us to do.

The owner wanted the car to be cleaned and prepared as a new car should be and he wanted the glossy blue paint transformed into matte blue!

We did a full decontamination car wash, the entire blue exterior glossy painted areas were covered with paint protection film(PPF) in matte and the black trim was all protected with glossy paint protection film.

All exterior painted areas were treated with CarPro Cquartz Finest Reserve Ceramic Coating.

The entire interior was cleaned and prepared, the light leather was cleaned and then treated with a leather sealant application from Swissvax Leather Glaze.

See how we transformed this 2021 Tesla Model S Plaid 1021hp rocket from plain to spectacular!
Model: Model S Plaid
Make: Tesla
Year: 2021
What was done
Detailing Supplies used on this vehicle 
Check out our Tutorial How-To Videos for Best Detailing Practices
Over 30 Detailing Tutorials
See Tutorials
Over 300 Detailing Write-Ups available!
Over 300 Vehicle Picture Write-Ups
See More
See our HUGE Car Detailing Gallery of hundreds of cars that we have worked on in our Obsessed Detailing Studio
Over 700 Cars in our Gallery
See Gallery
SEE ALL OF OUR TUTORIAL HOW-TO VIDEO'S ON OUR YOUTUBE CHANNEL
Subscribe to our YouTube Channel
Subscribe
For more information on our Detail Obsessed Concierge Services Click Here