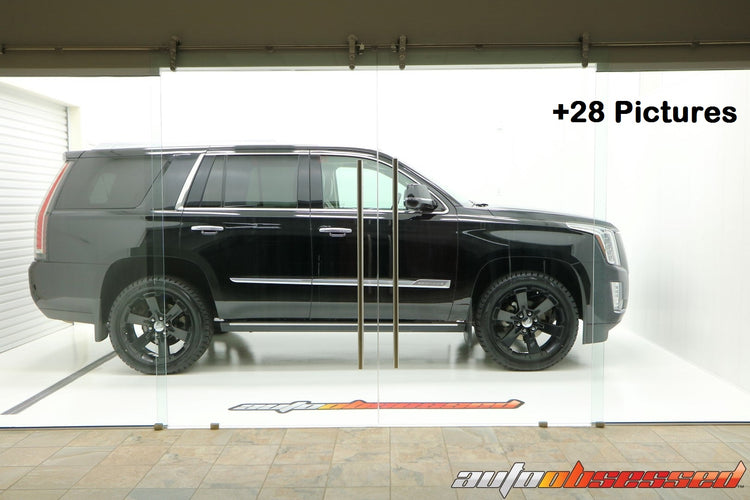 2019 Cadillac Escalade Car Detailing
We started with we a full decontamination car wash. After this initial wash, we worked on iron removal then removed the tar and other surface residue with chemical cleaners on the entire vehicle.

Paint protection film was then applied to the full front end for maximum coverage and to eliminate any seam lines. The rockers were also protected as these vehicles are prone to rock damage in that area.

The vehicle was finished with a coat of OBSSSSD Paint seal. The entire interior was cleaned and prepared, the leather was cleaned and then treated with a leather conditioner.

We then did all the final details and touch-ups using the best detailing products and techniques to make the final presentation to client in the Auto Obsessed Clean Room.

See the detailed 28 picture presentation of this vehicle below.
Model: Escalade
Make: Cadillac
Year: 2019
What was done
Detailing Supplies used on this vehicle 
Check out our Tutorial How-To Videos for Best Detailing Practices
Over 30 Detailing Tutorials
See Tutorials
Over 300 Detailing Write-Ups available!
Over 300 Vehicle Picture Write-Ups
See More
See our HUGE Car Detailing Gallery of hundreds of cars that we have worked on in our Obsessed Detailing Studio
Over 700 Cars in our Gallery
See Gallery
SEE ALL OF OUR TUTORIAL HOW-TO VIDEO'S ON OUR YOUTUBE CHANNEL
Subscribe to our YouTube Channel
Subscribe
For more information on our Detail Obsessed Concierge Services Click Here