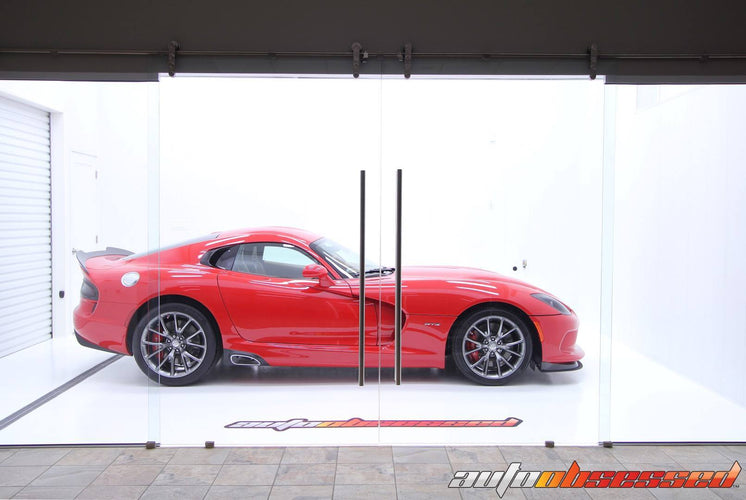 2013 Dodge Viper GTS Summer Prep Car Detailing
The exterior underwent a full decontamination car wash including iron and tar removal. The wheels, wheel wells, doorjambs, exhaust, and engine bay were extensively detailed with a host of OBSSSSD Premium Products. The paintwork underwent a full multistage paint correction to perfect it before application of paint protection film to the entire vehicle. We then finished the vehicle in Swissvax Crystal Rock. With 76% by volume of pure Brazilian ivory carnauba wax, Crystal Rock has one of the highest Carnauba contents of any wax on the market. In effect, it coats a car's paintwork in a smooth and glossy, yet tough and protective, water-repellent film - and even brings a shine to white and silver vehicles. The full OBSSSSD product line can be found here: https://www.autoobsessed.com/collections/obssssd/. To find a reseller in your area visit http://obssssdproducts.com.
Model: Viper GTS
Make: Dodge
Year: 2013
What was done
Detailing Supplies used on this vehicle 
Check out our Tutorial How-To Videos for Best Detailing Practices
Over 30 Detailing Tutorials
See Tutorials
Over 300 Detailing Write-Ups available!
Over 300 Vehicle Picture Write-Ups
See More
See our HUGE Car Detailing Gallery of hundreds of cars that we have worked on in our Obsessed Detailing Studio
Over 700 Cars in our Gallery
See Gallery
SEE ALL OF OUR TUTORIAL HOW-TO VIDEO'S ON OUR YOUTUBE CHANNEL
Subscribe to our YouTube Channel
Subscribe
For more information on our Detail Obsessed Concierge Services Click Here