Auto Obsessed YouTube Video
In this video we talk with the official Rupes Trainers about Rupes Polishers, Rupes DA Polishing pads and compounds and go in-depth on critical details you likely never knew before about Rupes, to help you use the tools and products effectively.
We discuss the Rupes Polishing System in detail, including how it works, the different polishers available, why it is so important to use the Rupes Pads and Compounds and how to use them.
We'll also discuss how to prime foam polishing pads, microfiber and wool polishing pads, rotary polishing pads how to do a test spot to determine what polishing steps you will need to do on your project, all of which are essential to get the best results, save time, save money!
After watching this video, you'll have everything you need to know to get the most out of your Rupes Polisher!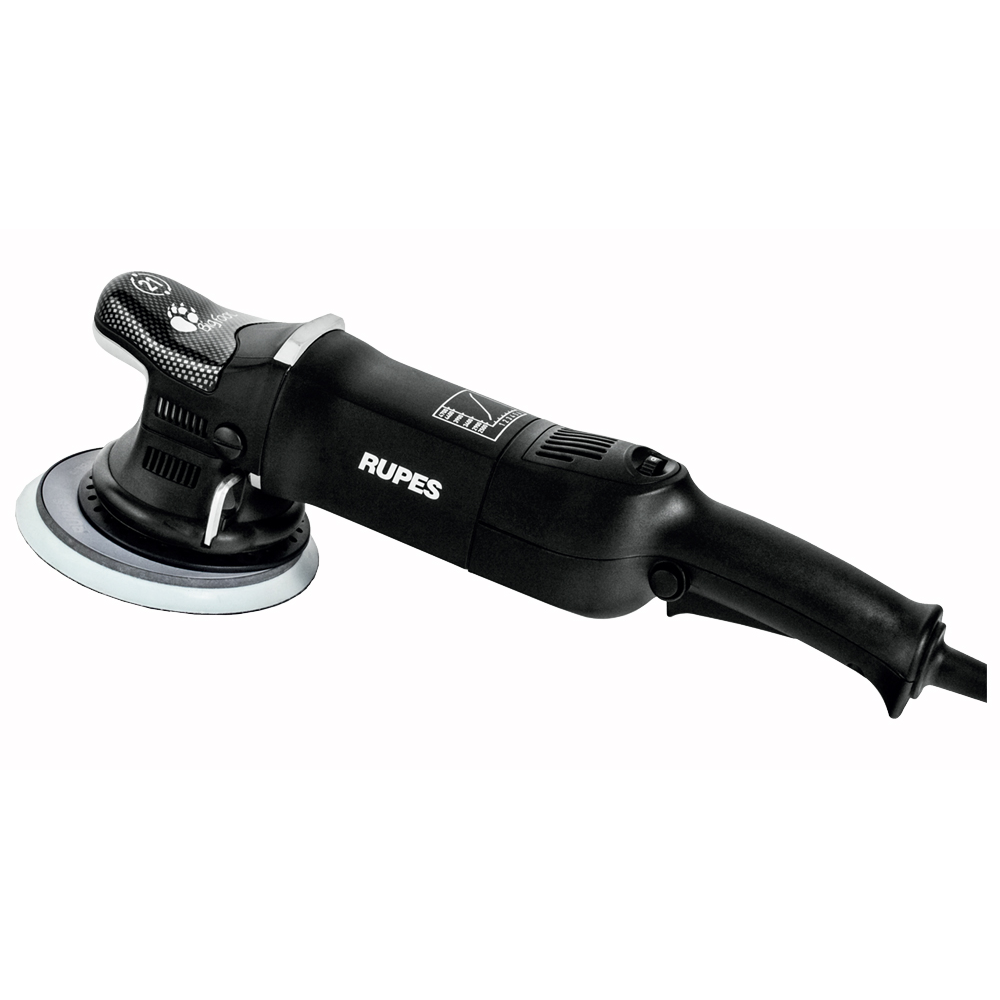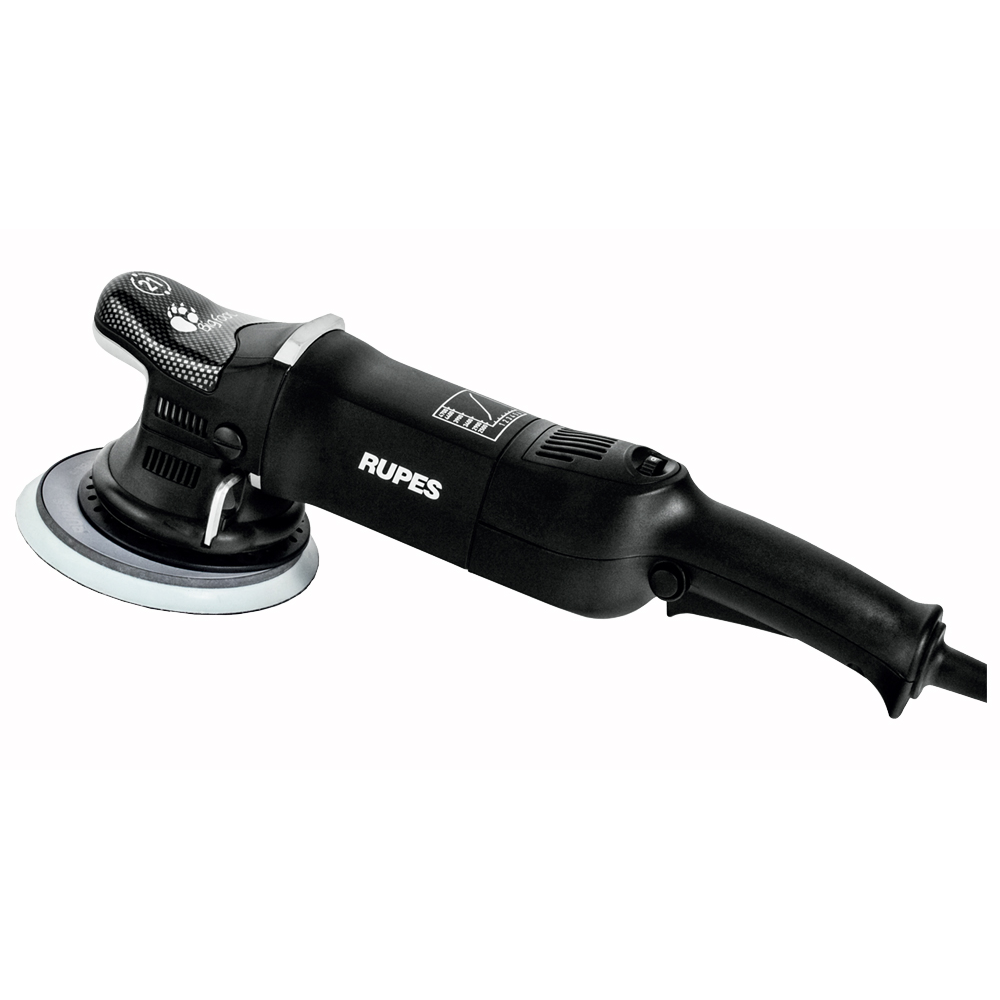 Rupes Bigfoot Mark III
Dual Action Polisher (Long Throw)
The polishing pad moves in a random orbit, or Free-Spinning Orbital. Low risk polishing tool, mitigating the cause of swirl marks and least invasive to the paint.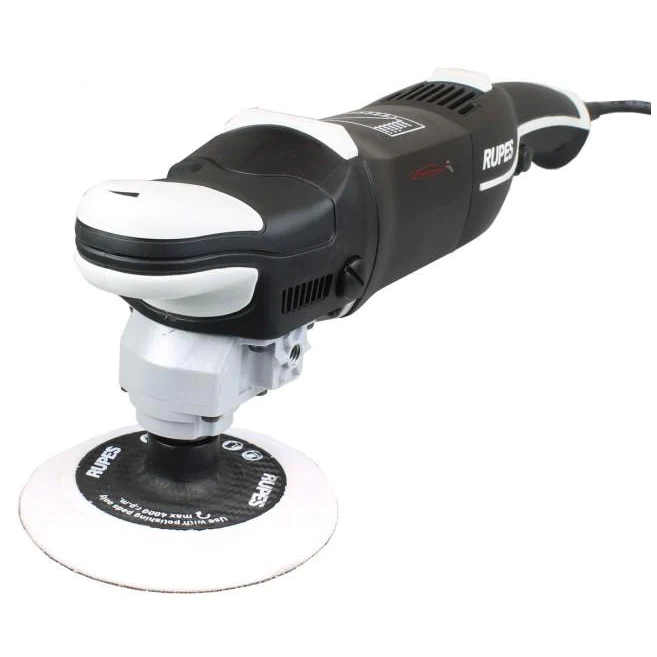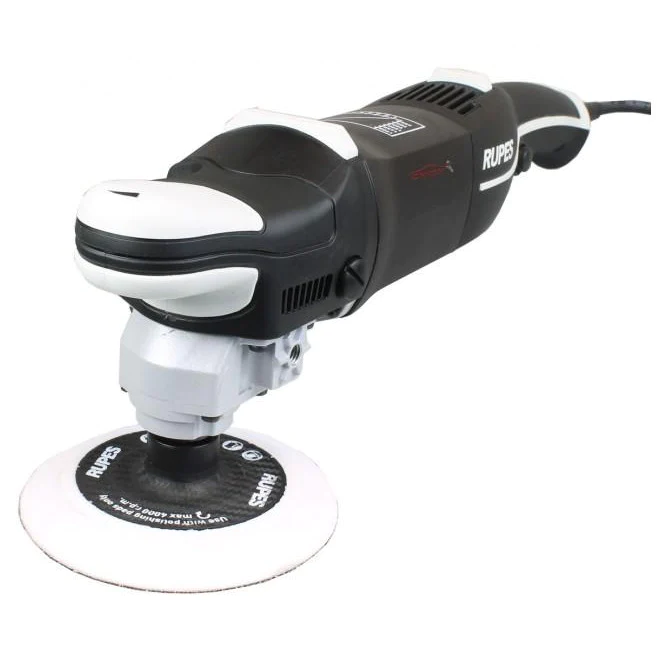 Rupes Rotary
Featuring a high torque motor, compact and lightweight design, and premium ergonomics the LH 19E BigFoot rotary polisher is one of the most capable and maneuverable rotary polishers on the market today. Most invasive to paint and likely to require multiple polishing stages.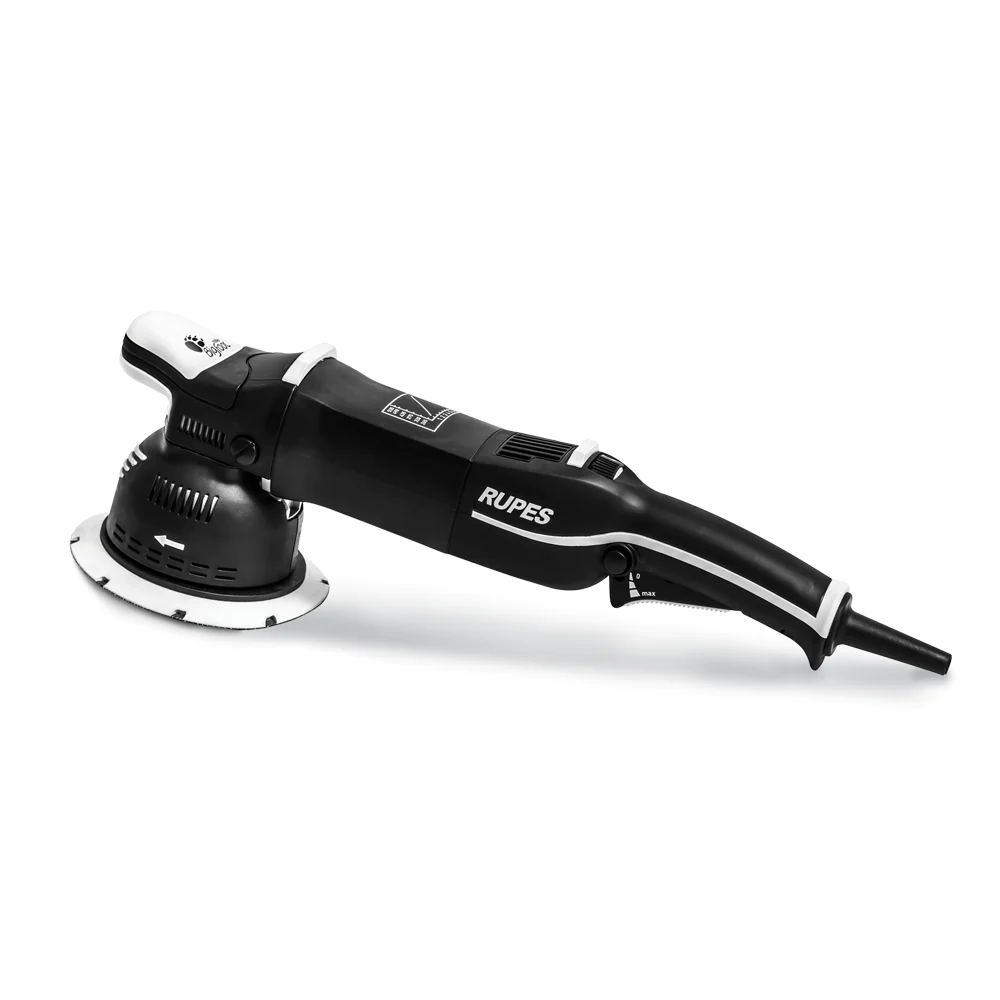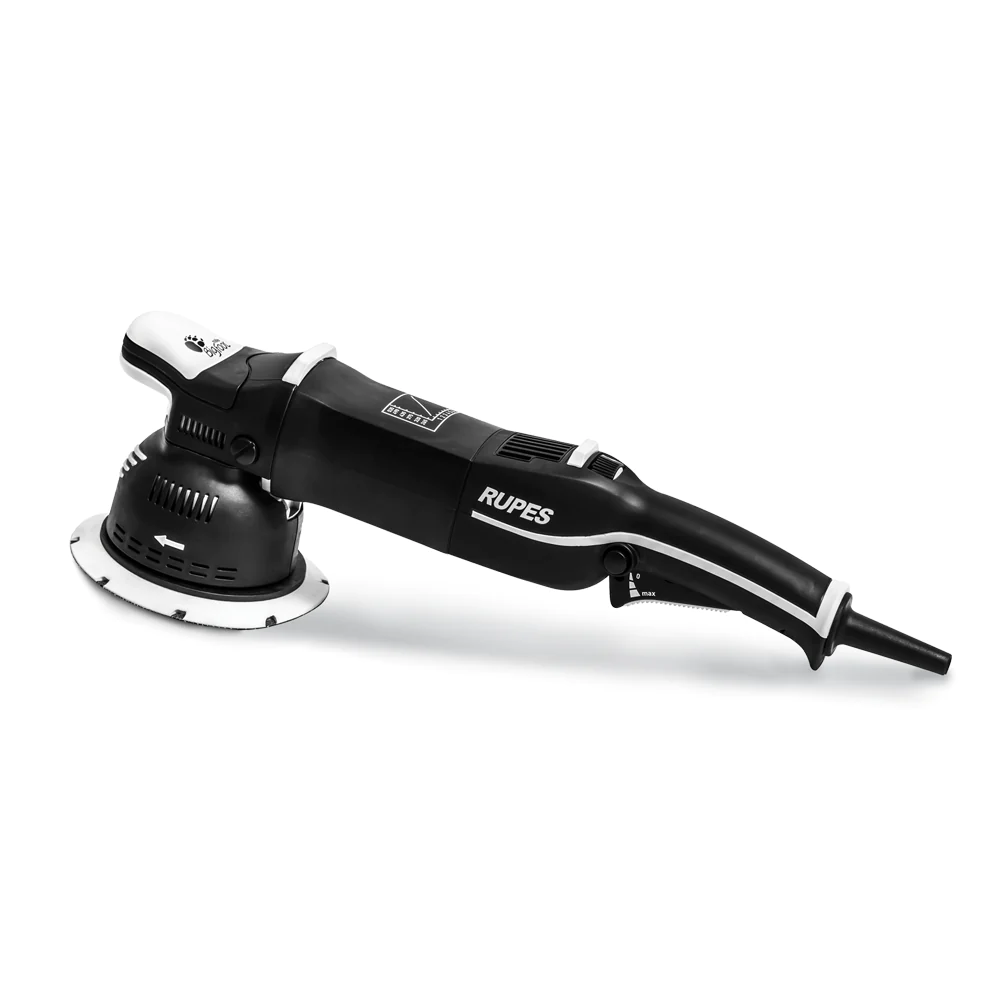 Rupes Mille
Gear driven orbital polisher (Forced Rotation)
Bridging the gap between random orbital and rotary is the BigFoot LK 900E Mille Gear-Driven polisher. This tool offers a balance of power, ergonomics, and capability for operators who prefer a forced-action movement but don't want the unwanted risk or side effects associated with rotary polishers. Unlike other forced action tools on the market, the innovated design of the Mille drives the rotation of the tool in a clockwise direction making the movement feel more familiar and comfortable. Great for gel-coat and harder paint surfaces.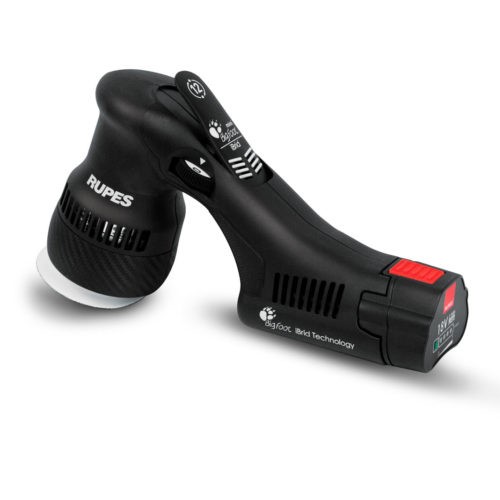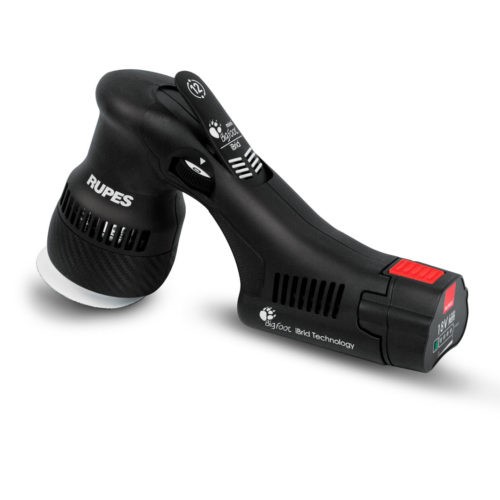 Rupes Cordless
With iBrid Technology
The new RUPES BIGFOOT HLR75 iBRID MINI POLISHER represents the evolution of RUPES tools with iBrid dual-power technology. Ideally suited for polishing applications in curves, contours, and compact spaces, the HLR75 iBrid Mini features a 12mm orbit and 3-inch backing plate for maneuverability and precise control.

The HLR75 features a revolutionary design for the polishing world unlike any polishing tool seen before. Ergonomics have been optimized by reimaging polisher design. The BigFoot HLR75 iBrid Mini Polisher is extremely comfortable and easy to use in a variety of grip and hand positions. The unique design provides incredible maneuverability and balance to guarantee precise and efficient polishing results while minimizing operator fatigue.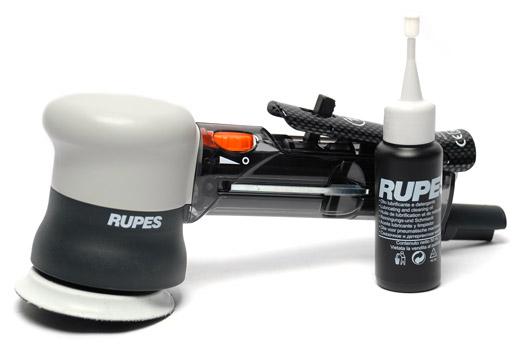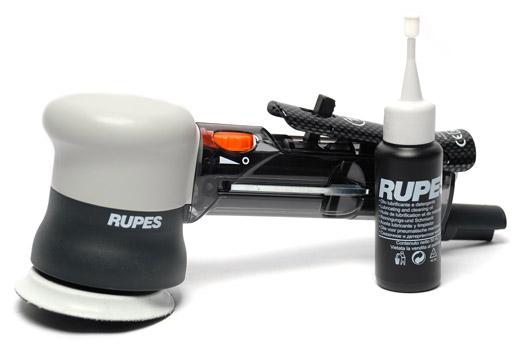 Rupes Pneumatic
Random Orbital Polisher
Pound for pound the most powerful tool in the BigFoot family of polishers the LHR 75 is a small pneumatic random orbital polisher with a 15mm orbit, 3 inch backing pad. This combination allows the tool to work in awkward and difficult to reach areas with incredible speed and efficiency. The reduced size and high cutting capacity make the LHR75 the ideal polisher for spot repairs, polishing contoured areas and parts such as mirrors and pillars.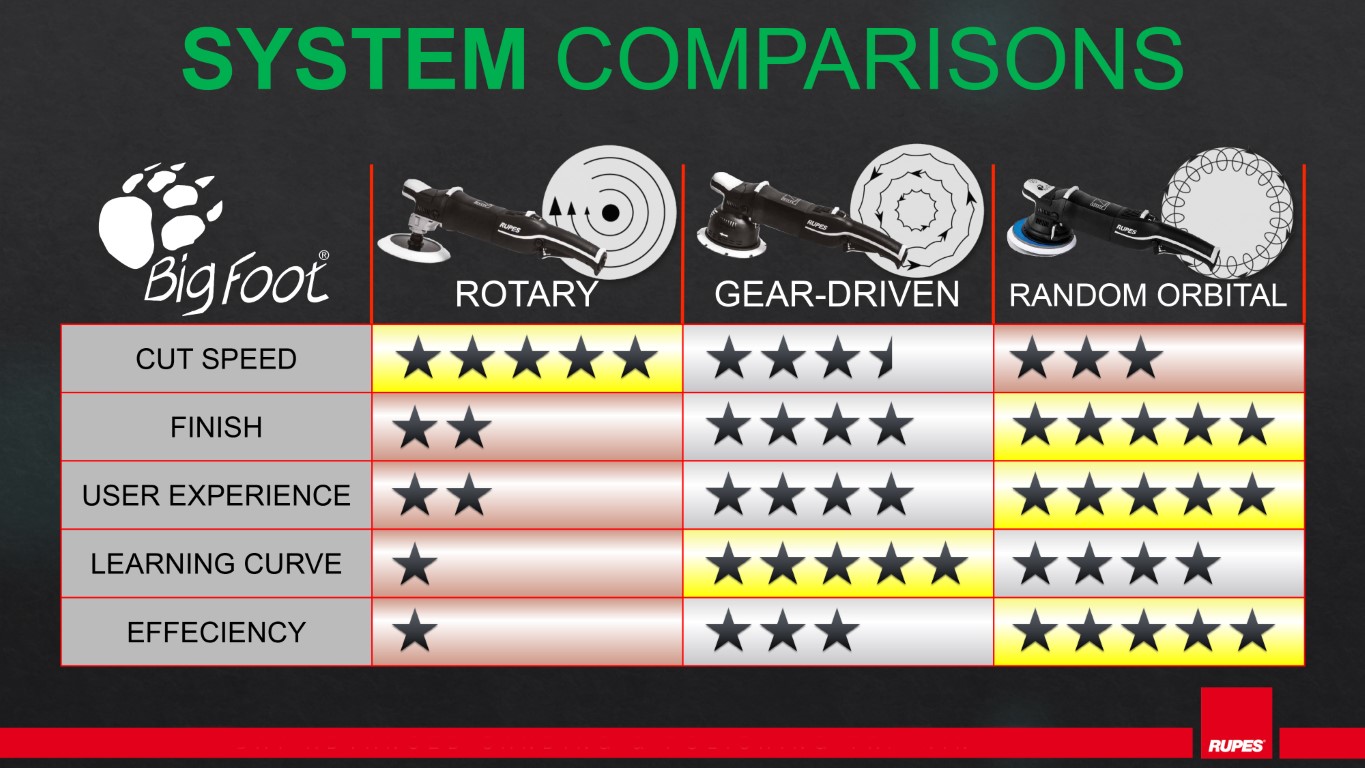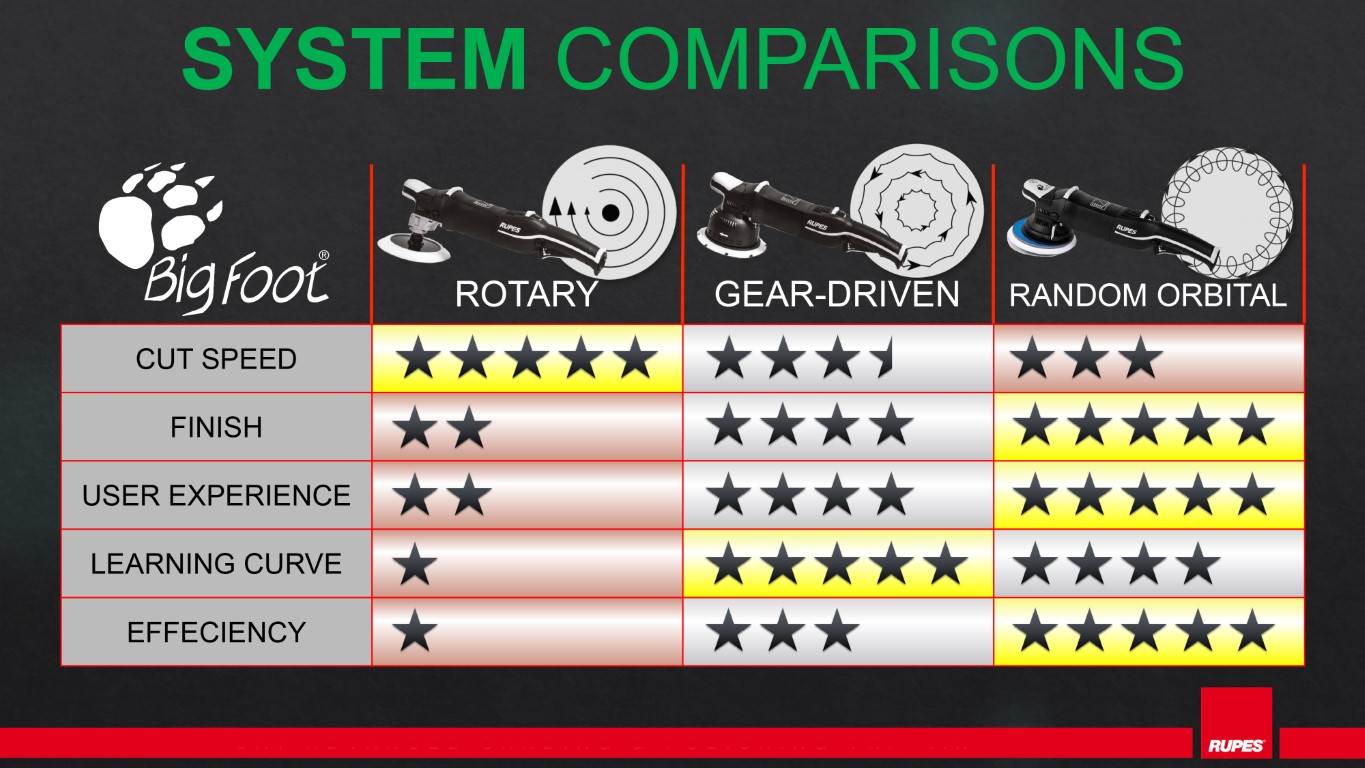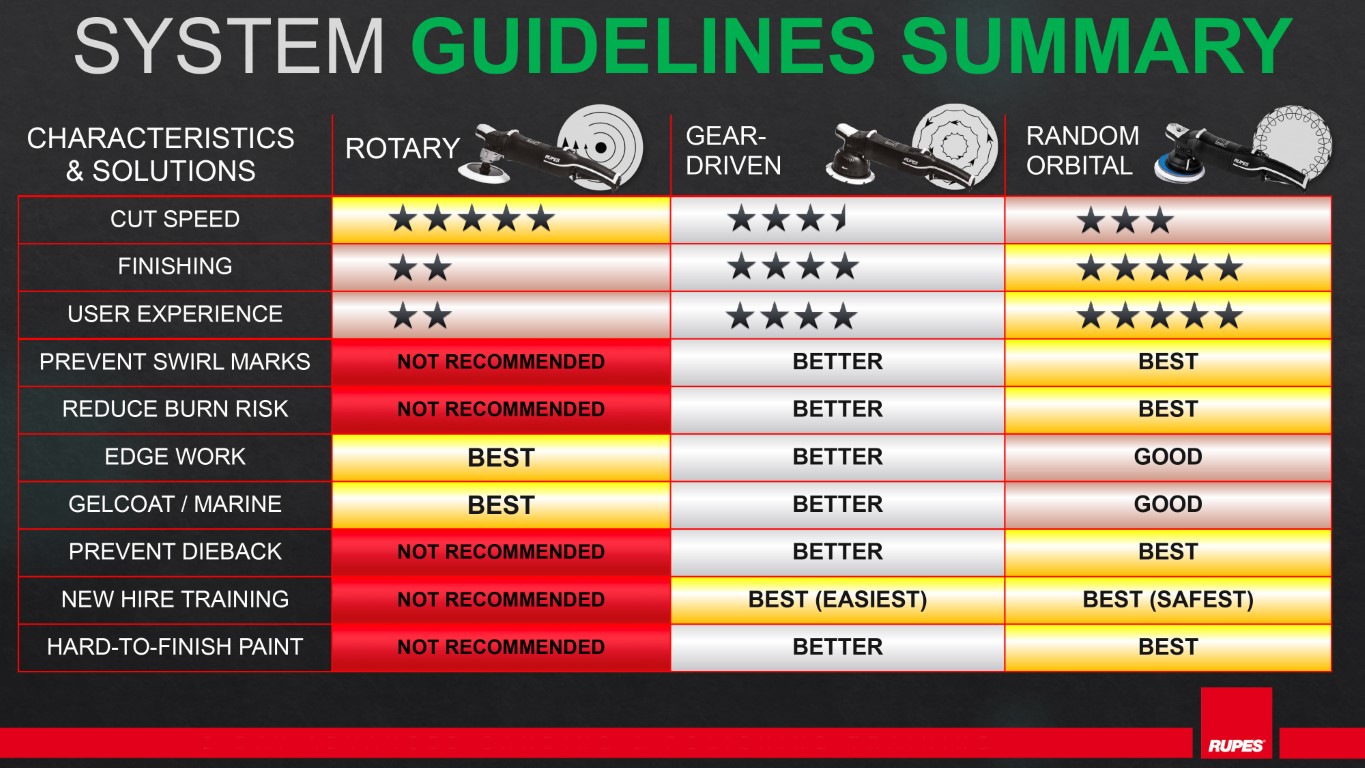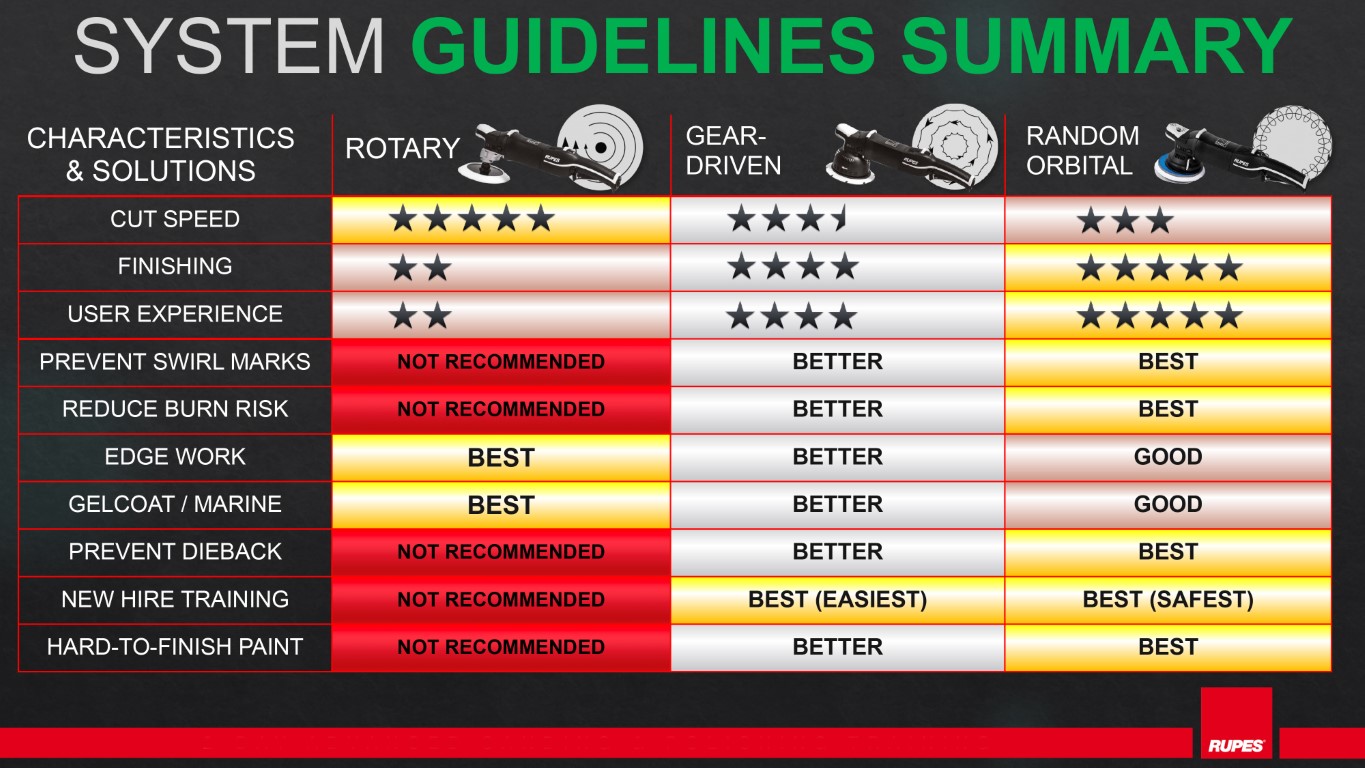 DA Course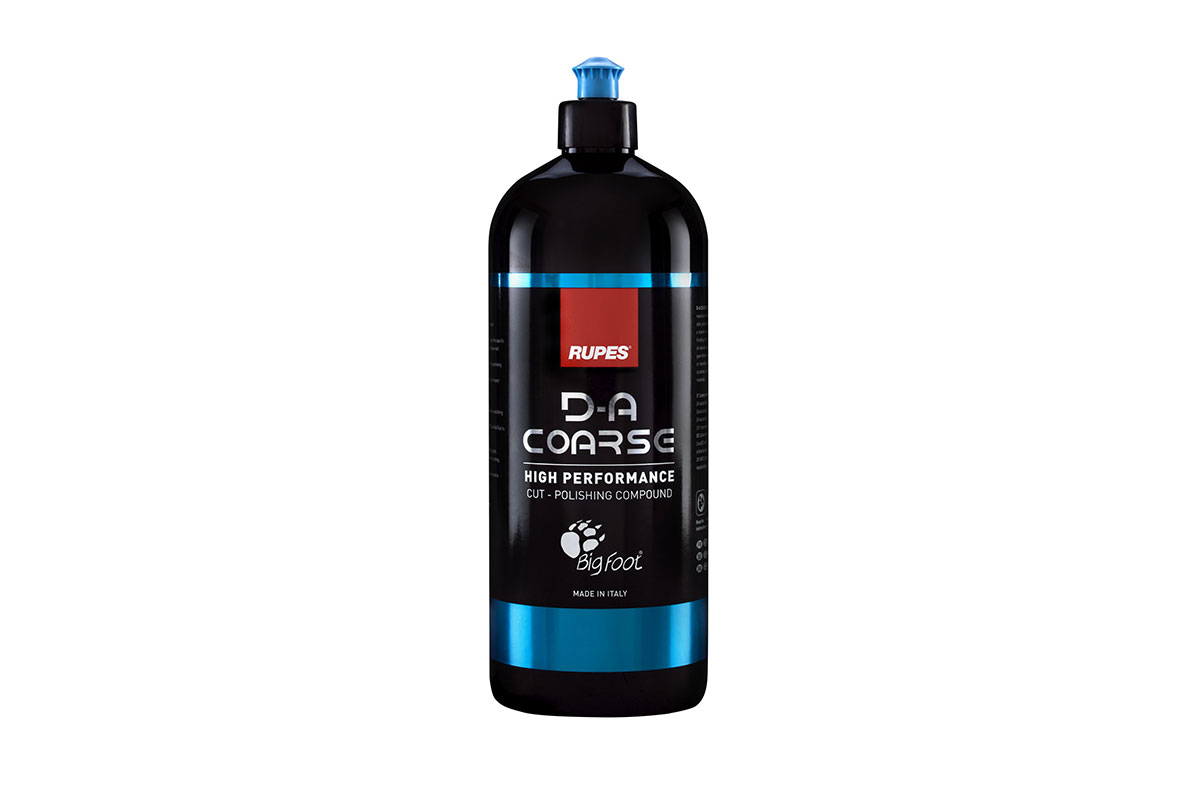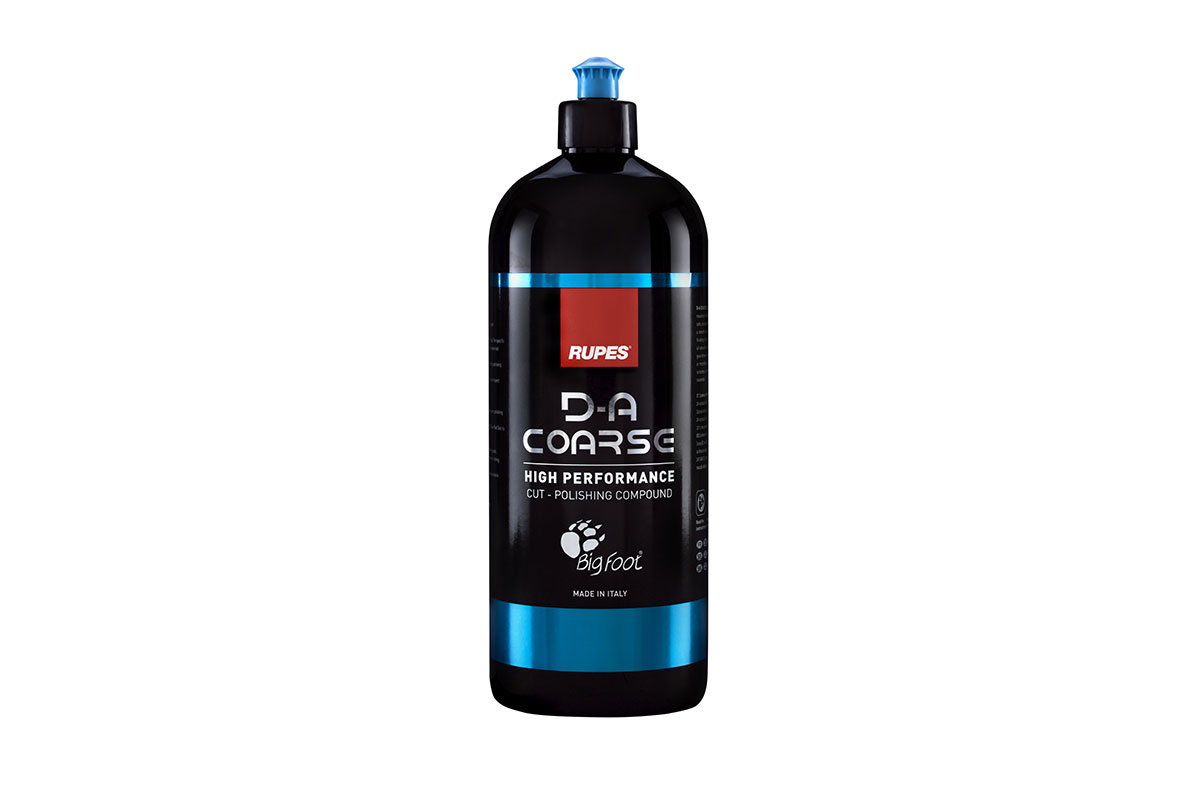 Rupes BigFoot DA Coarse Cutting Compound
DA COARSE is a fast cutting compound from RUPES designed to remove defects and deliver an impressive finish various surfaces.
This compound is formulated to maximize the polishing power of all dual-action polishers, including random orbital and gear-driven tool movements, and pairs perfectly with BigFoot DA Coarse blue foam pads, DA wool pads, or microfiber pads.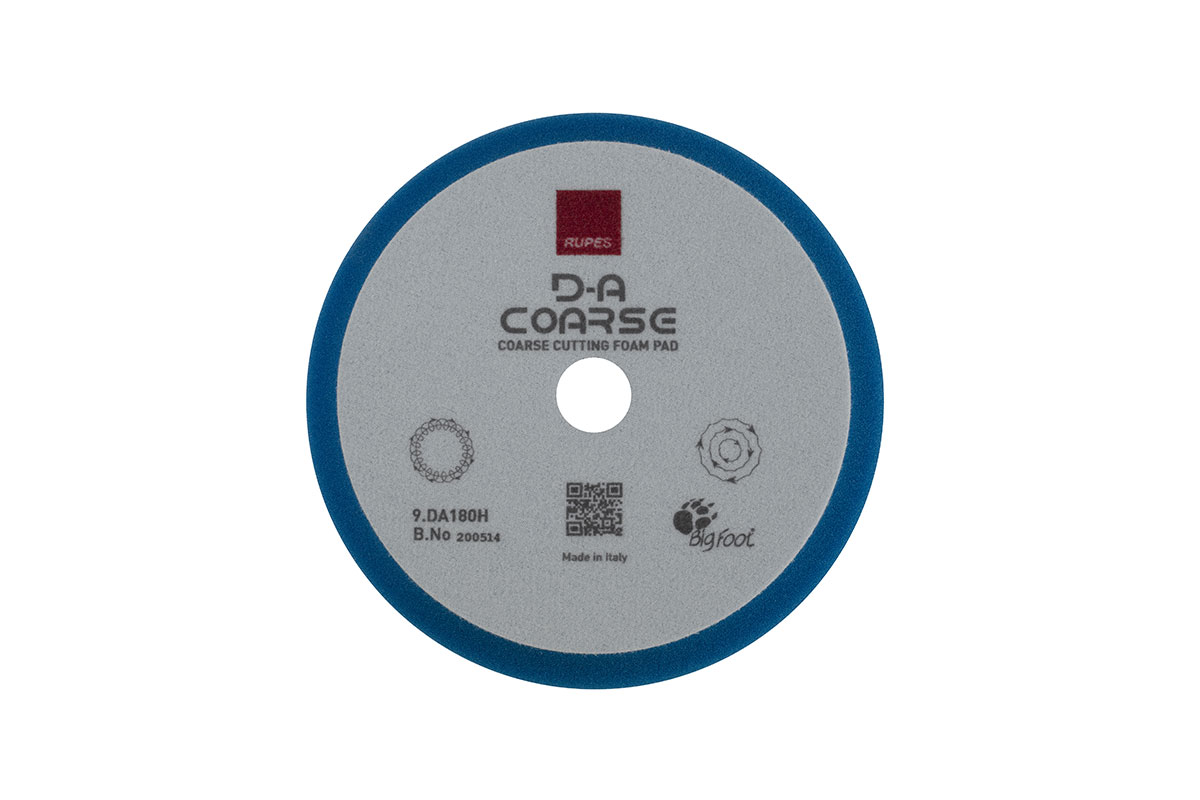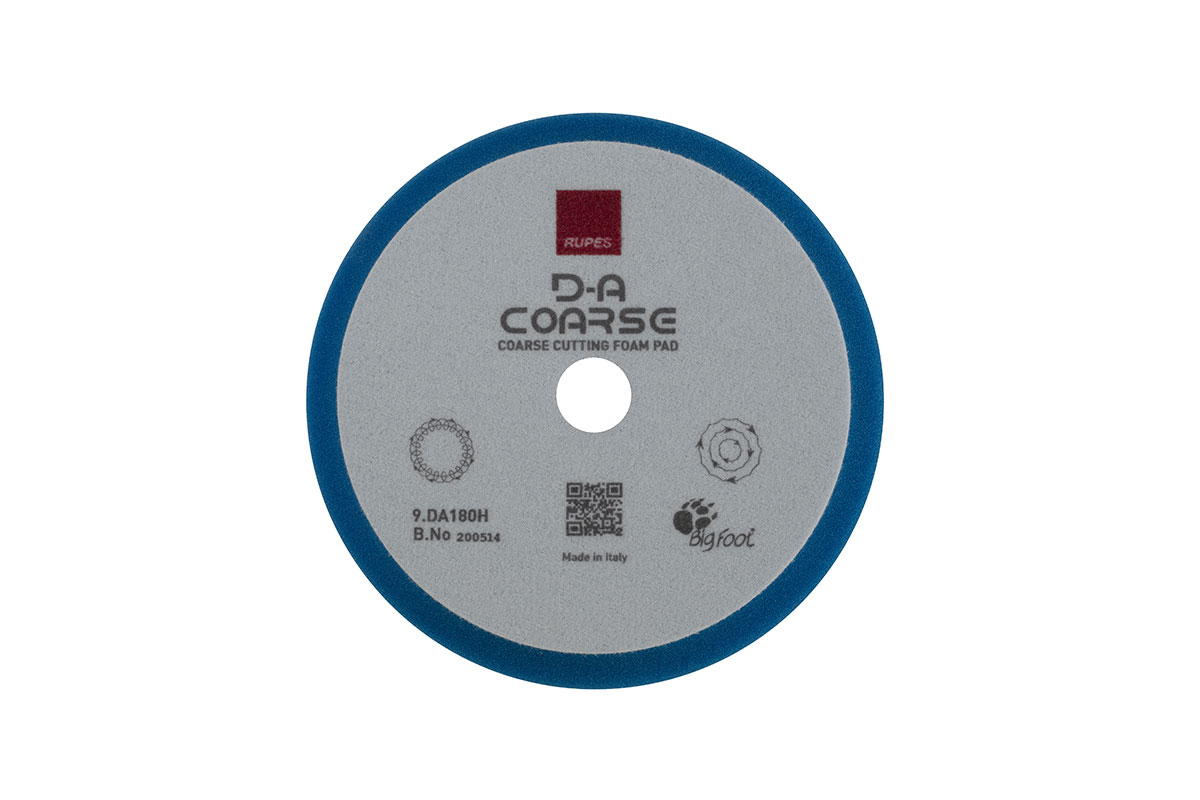 Rupes DA Coarse Blue Cutting Foam Pad
The DA Coarse blue foam pad is the most aggressive foam option for the BigFoot pads and is specially designed to be used with both random orbital/dual action polisher and gear-driven tools.
The unique open-cell all new foam material removes mild to severe defects from most paint systems.
DA Fine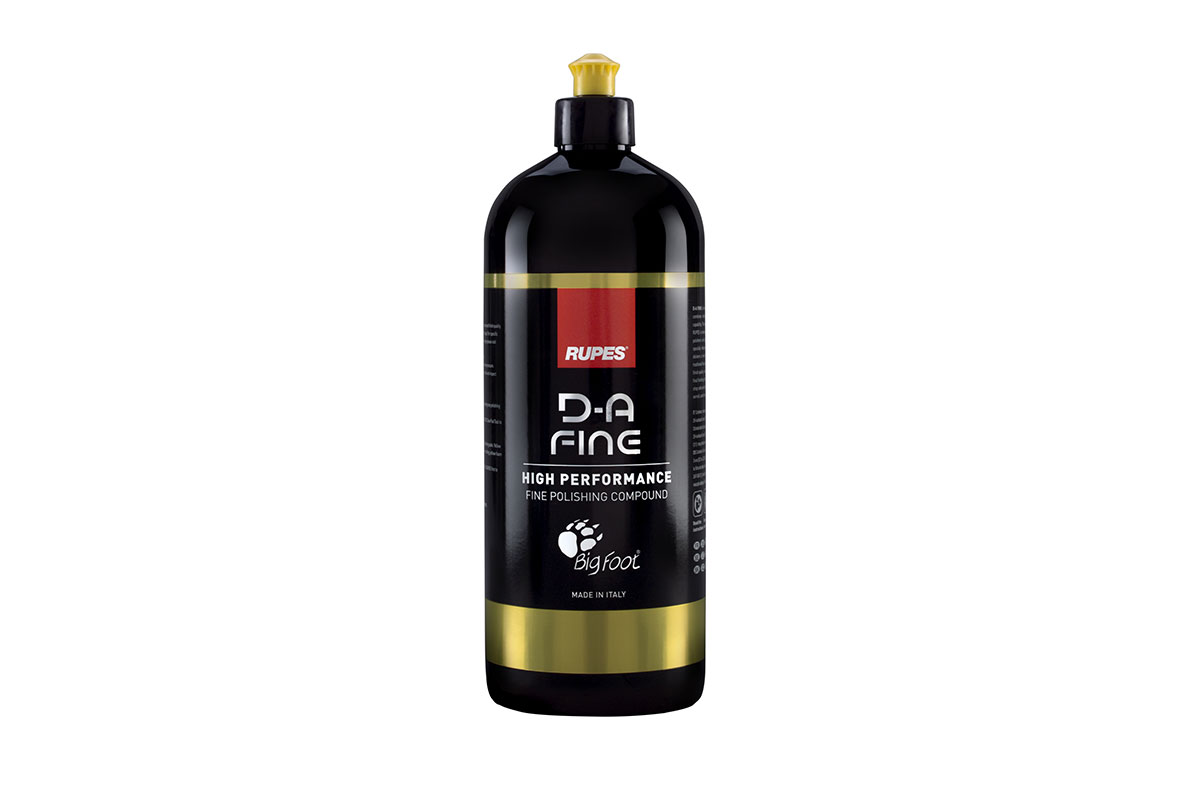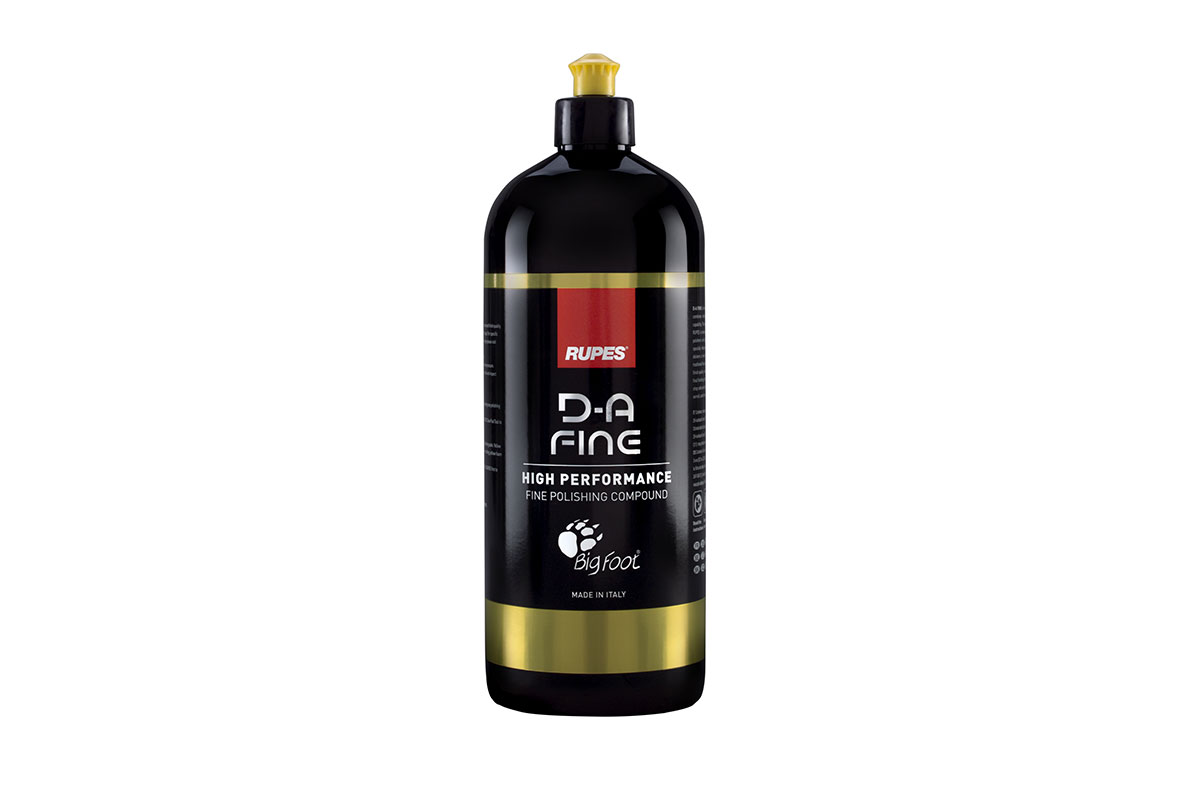 Rupes BigFoot DA Fine Polishing Compound
DA FINE combines the power to quickly polish away moderate paint defects with the finesse essential to producing a stunning haze-free finish on automotive paint, gelcoat, and similar surfaces.
BigFoot DA Fine maximizes the finishing ability of all random or gear-driven orbital polishers when used with BigFoot DA fine foam, wool, and microfiber pads.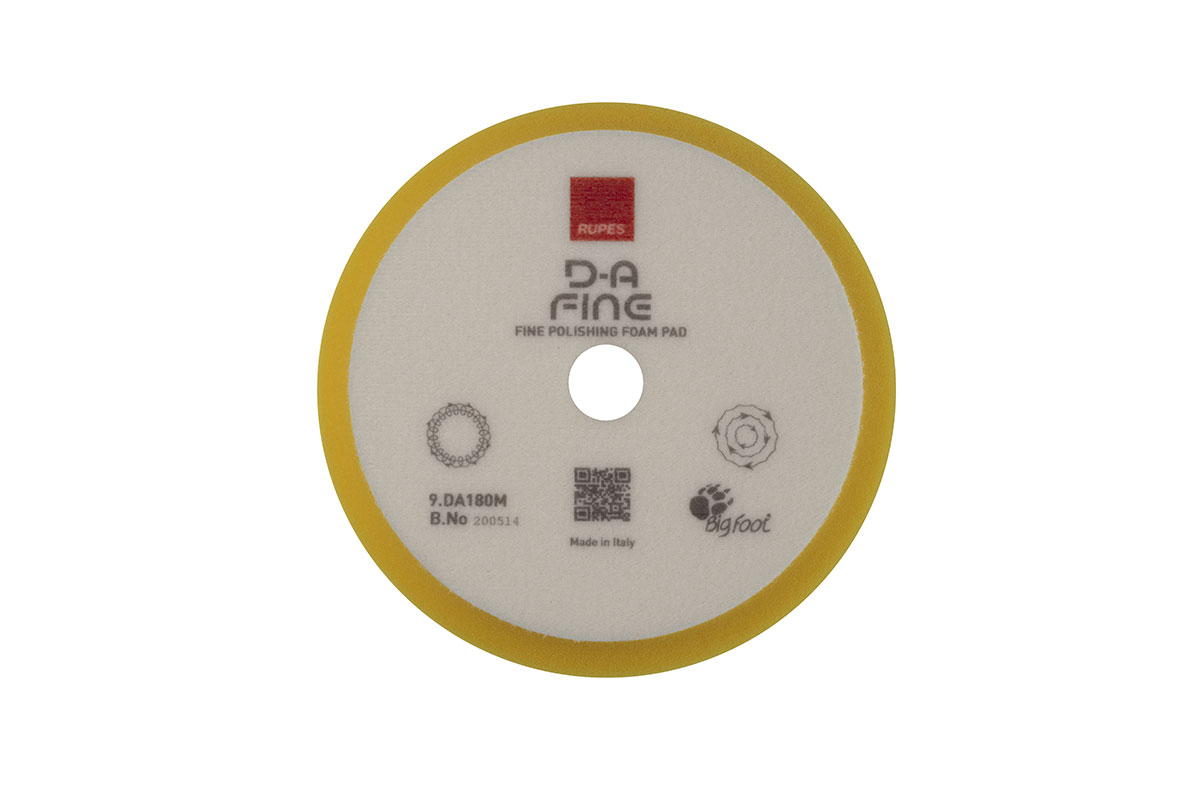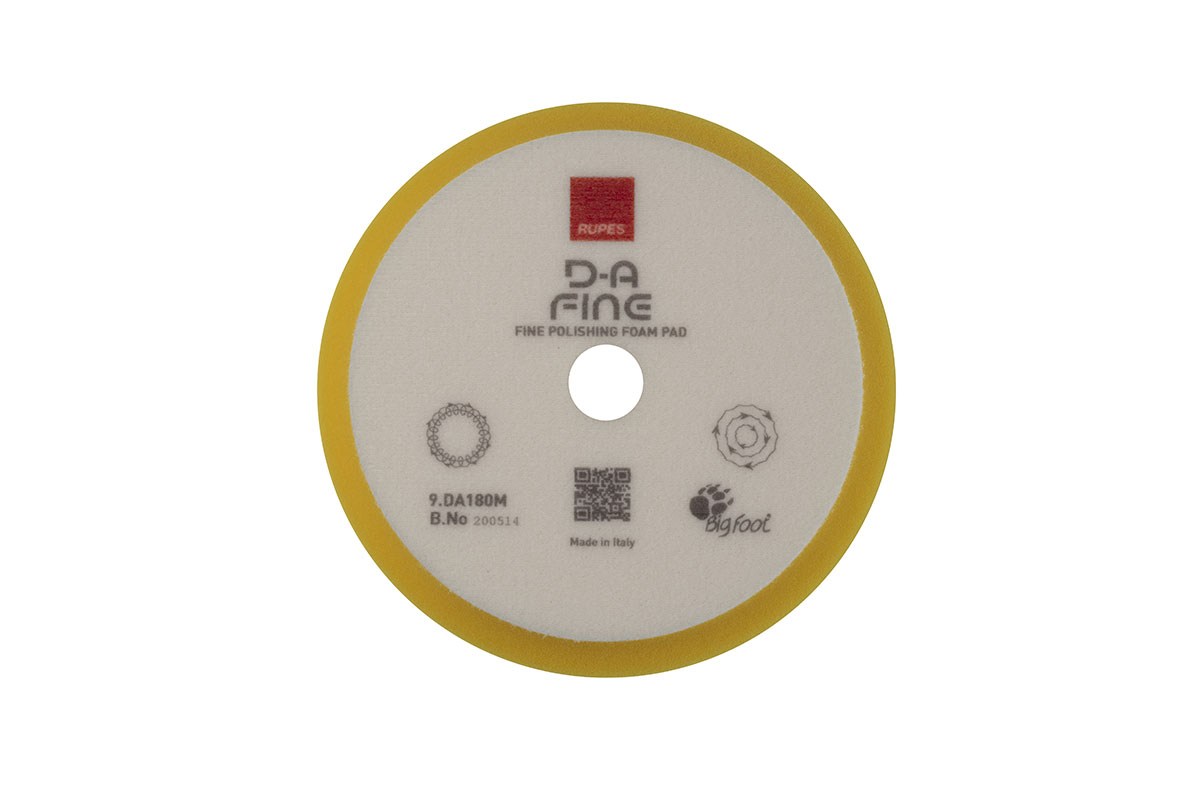 Rupes DA Fine Yellow Polishing Foam Pad
The Rupes DA FINE foam pad is the most versatile foam pad in the RUPES BigFoot range, delivering an effective rate of defect removal and capability for high-gloss finishing on most paint systems.
Pair with RUPES DA-FINE polishing compound for moderate to fine defect removal, paint refinement, or final finishing after heavy compounding steps.
UNO Pure / DA Ultra Fine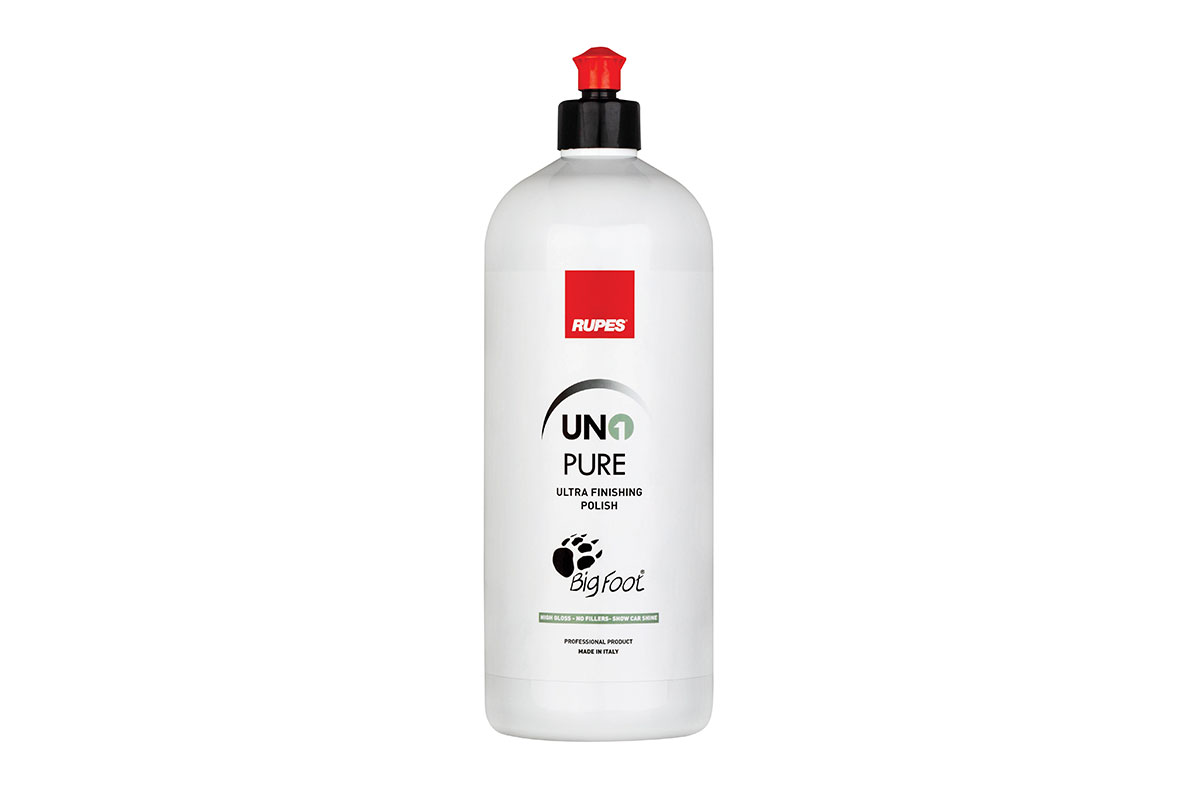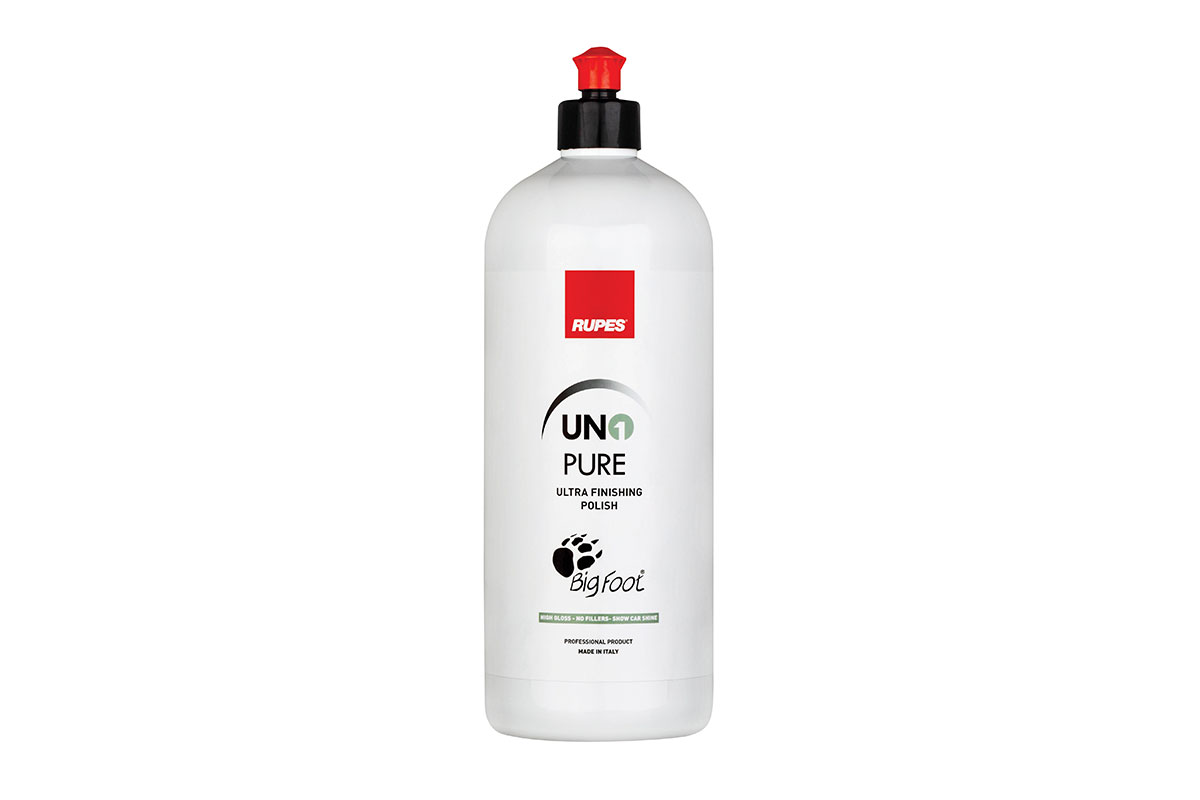 Rupes UNO Pure Ultra Finishing Polish
UNO PURE proprietary formula uses the latest in abrasive technology to produce the highest possible optical clarity and reflectivity.
UNO PURE is ideal for very soft or haze-prone paints or can be used to create a show car finish.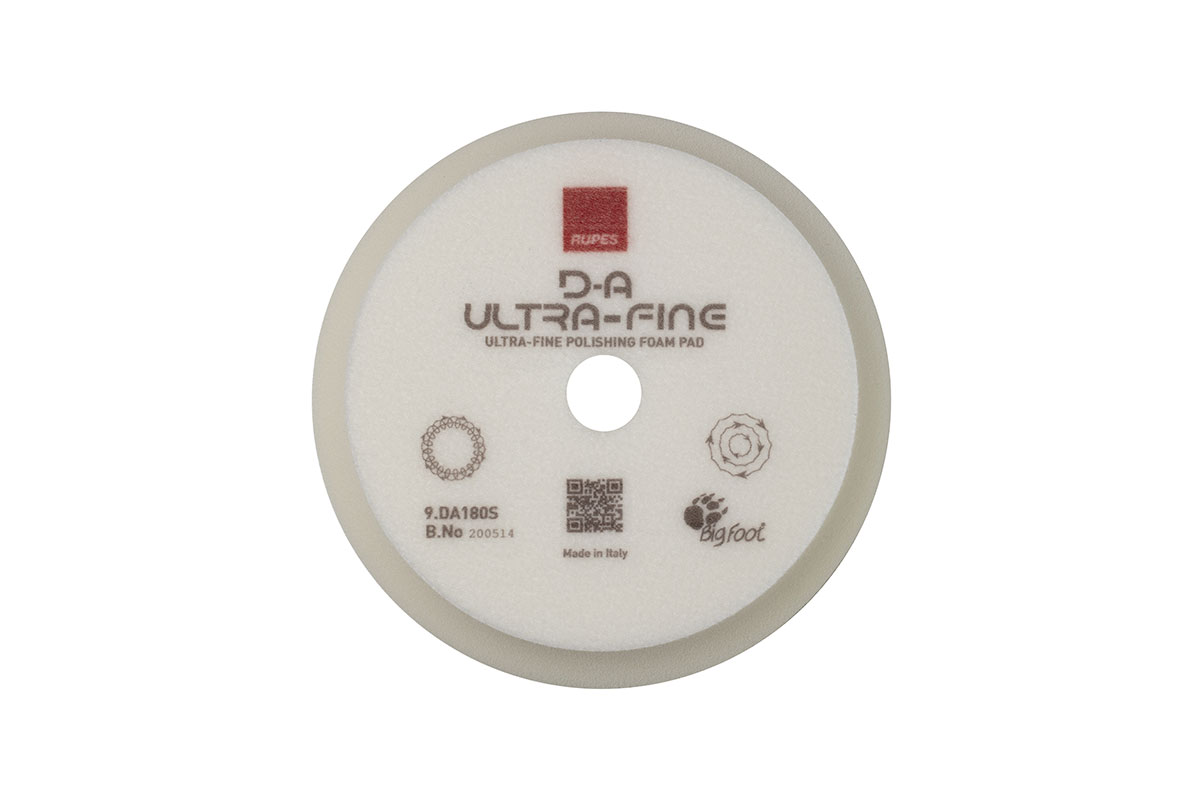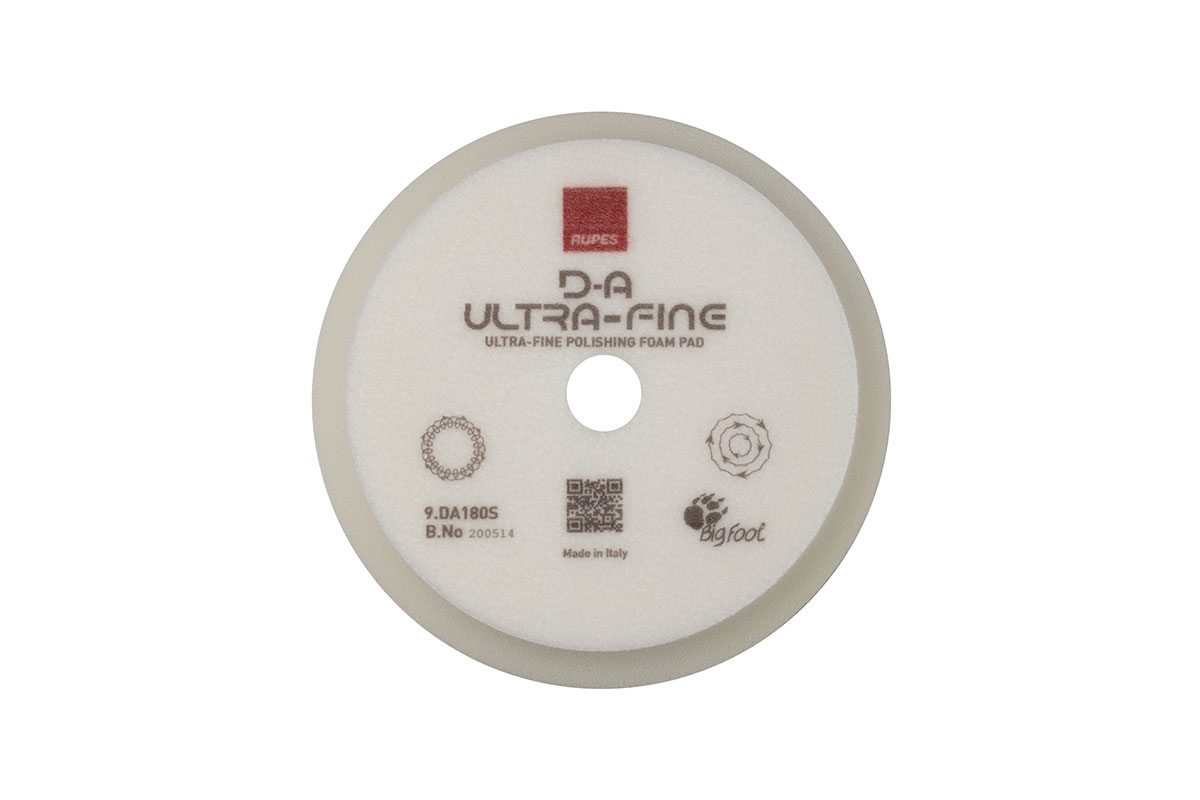 Rupes DA Ultra Fine White Polishing Foam Pad
The DA ULTRA-FINE foam pad is designed for high gloss finishing and polishing on haze-prone or very soft paint surfaces. It can also be used for the application of sealants or waxes.
Pair the DA Ultra-fine foam pad with UNO PURE Universal Polish to remove extremely fine defects.
UNO Protect / UNO Advanced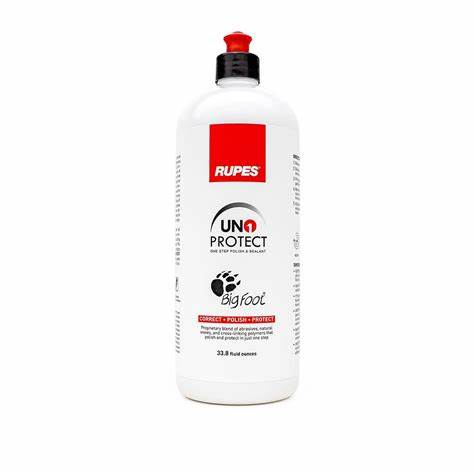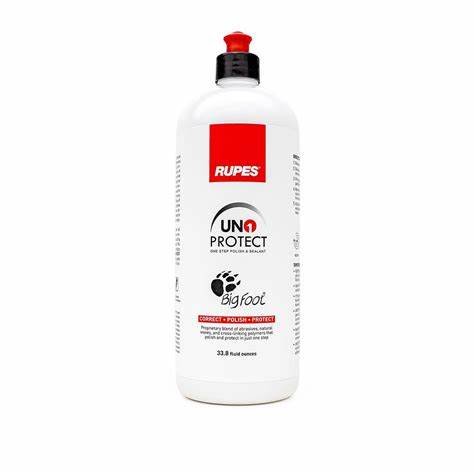 Rupes UNO Protect One Step Polish & Sealant
UNO PROTECT is an all-in-one product designed to provide fast correction of moderate to fine defects while leaving a high-quality finish and protection in just one step.
UNO PROTECT is compatible with foam, wool, and microfiber pads.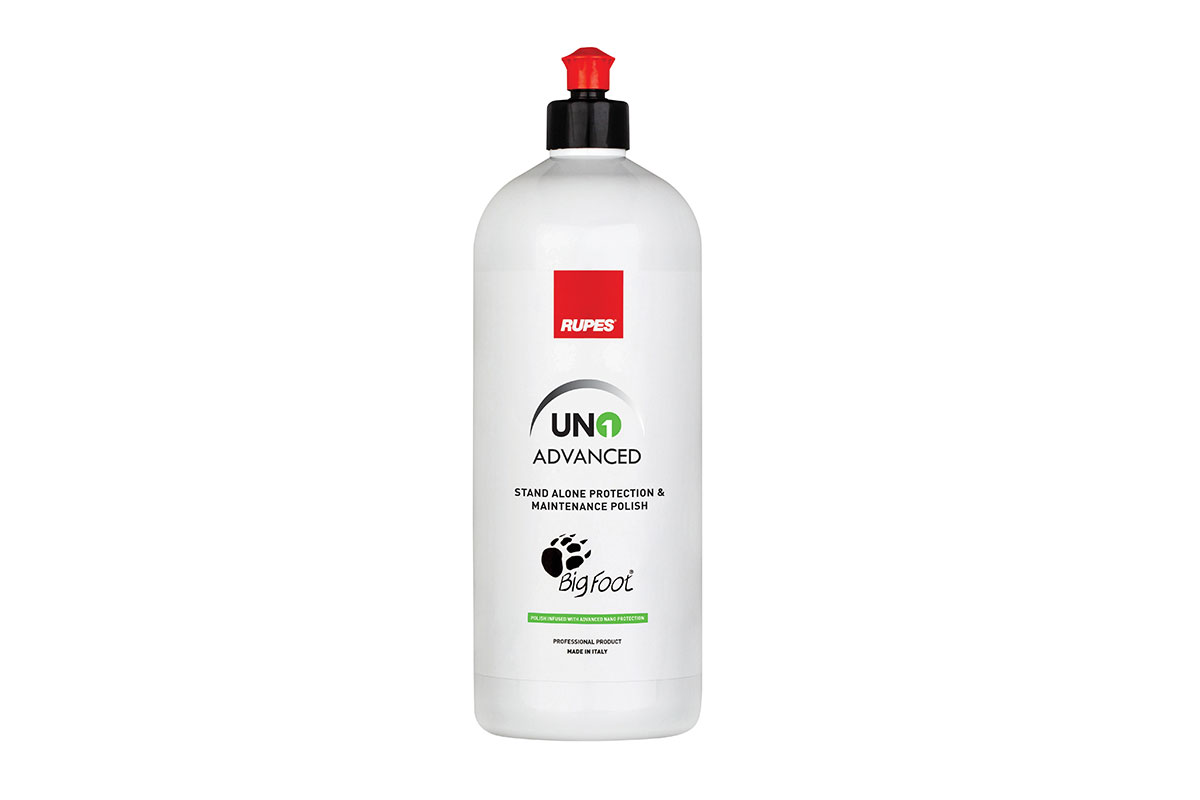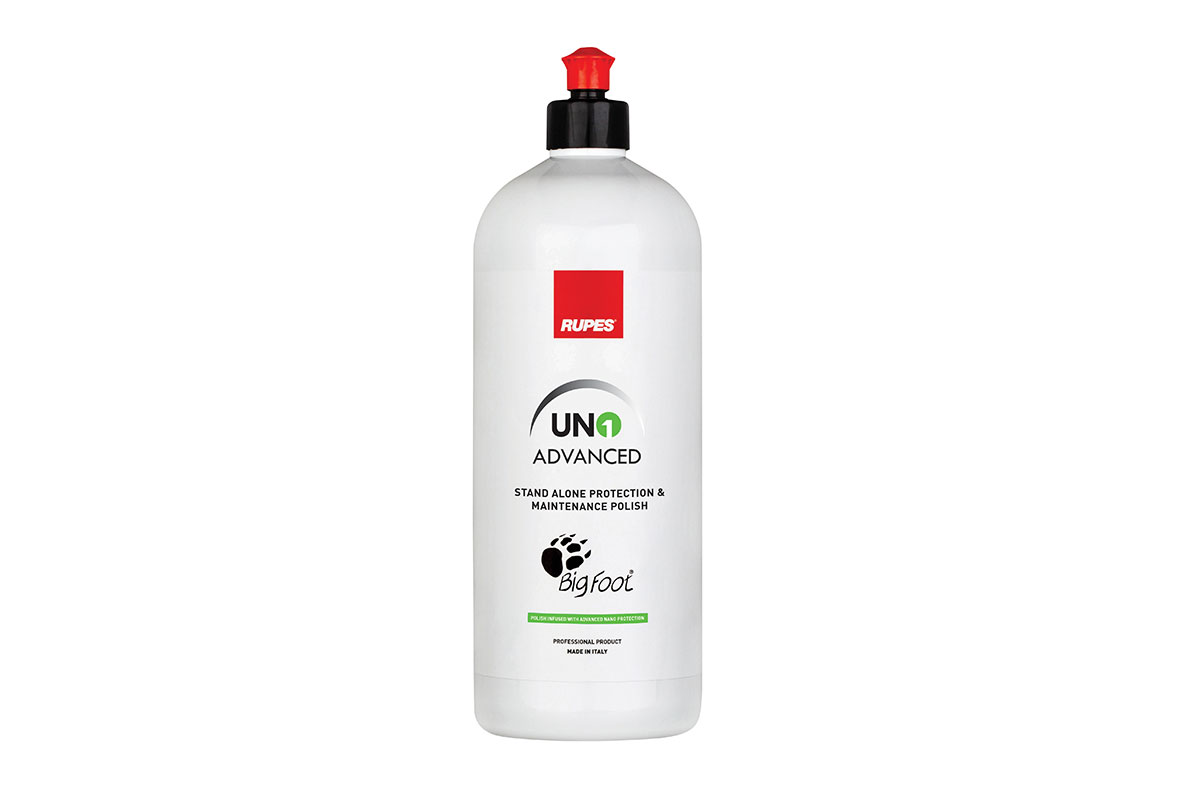 Rupes UNO Advanced Protections & Maintenance Polish
UNO ADVANCED removes minor imperfections while creating a durable layer of up to 12 months of protection.
Use UNO ADVANCED as a stand-alone solution for light correction, gloss enhancement, and protection in one easy step, or as a follow-up step after more aggressive compounding.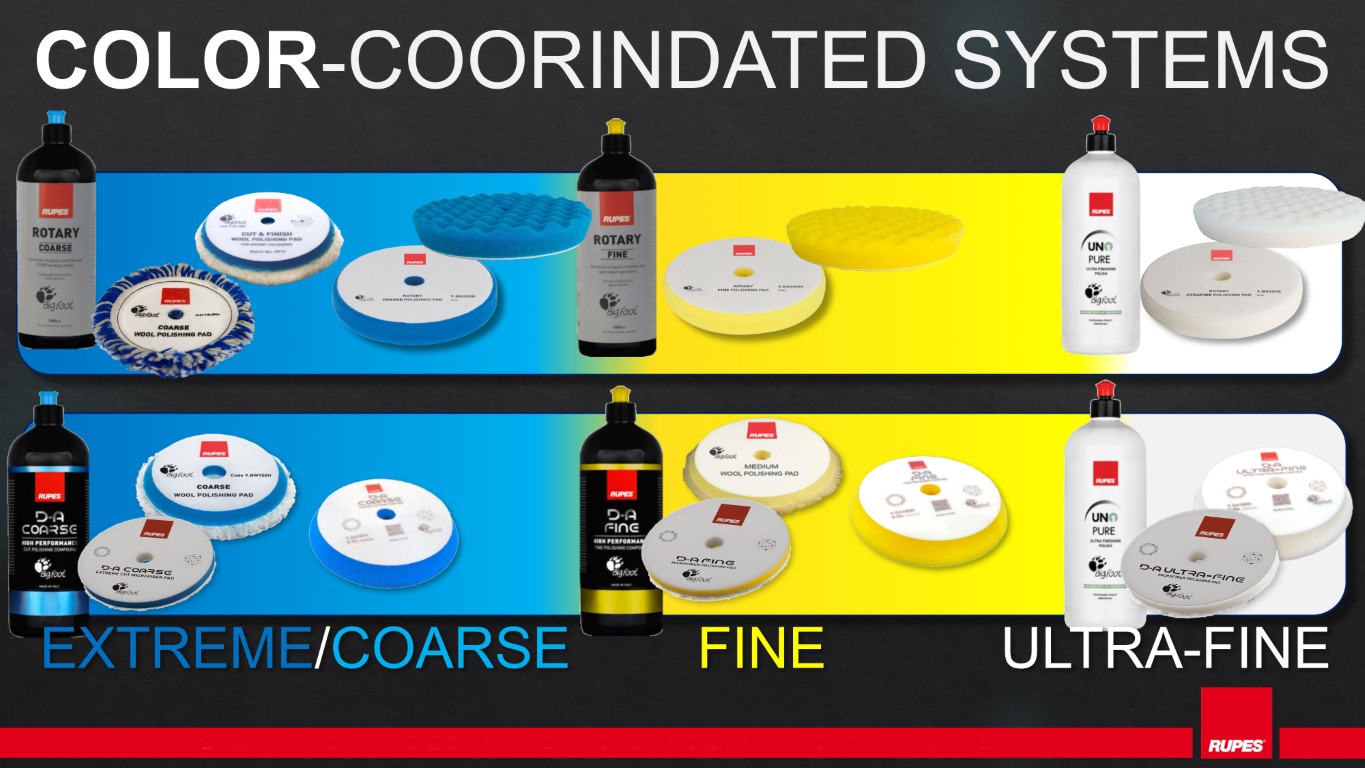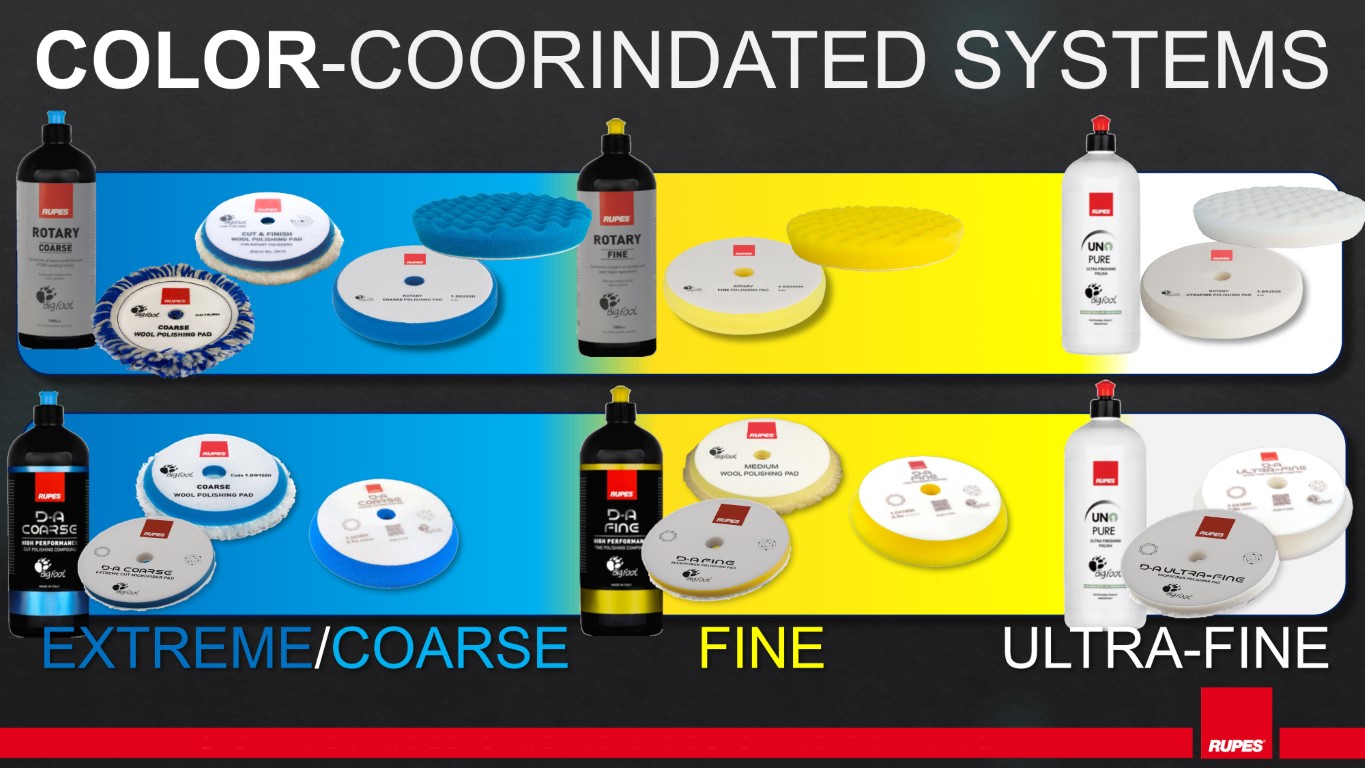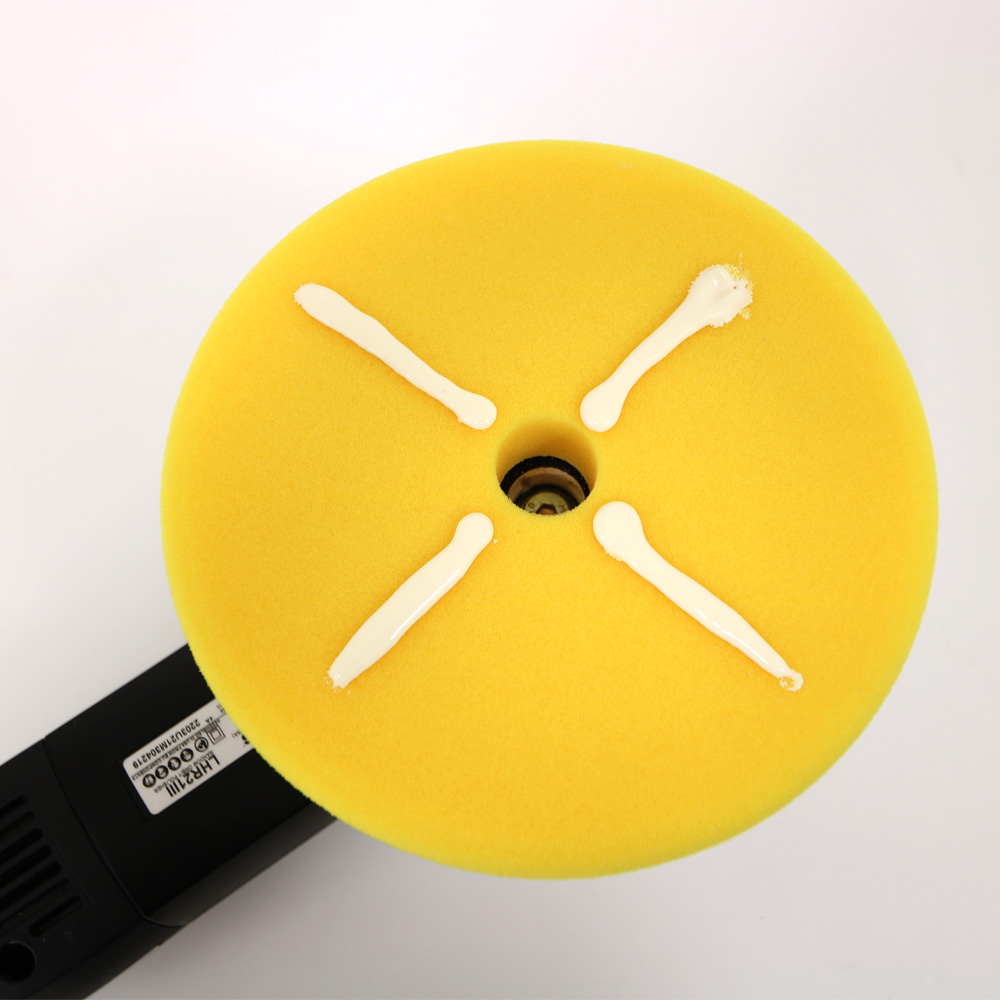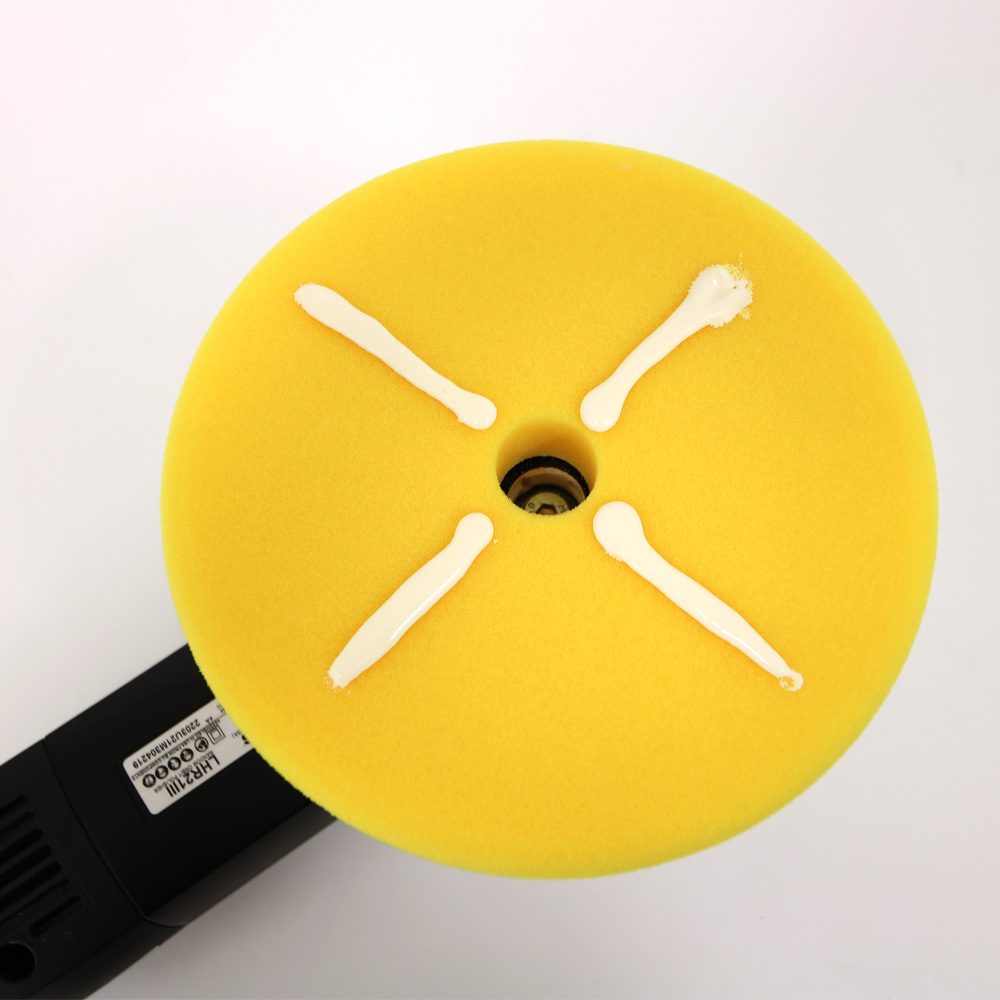 Foam Pads
1. Place the compound on the foam pads in an "X" pattern, one half inch away from the edge of the pad..
2. Set the speed of the polisher to "2"
3. Run the pad on the surface for twenty seconds, applying moderate pressure and keeping the pad in the same spot.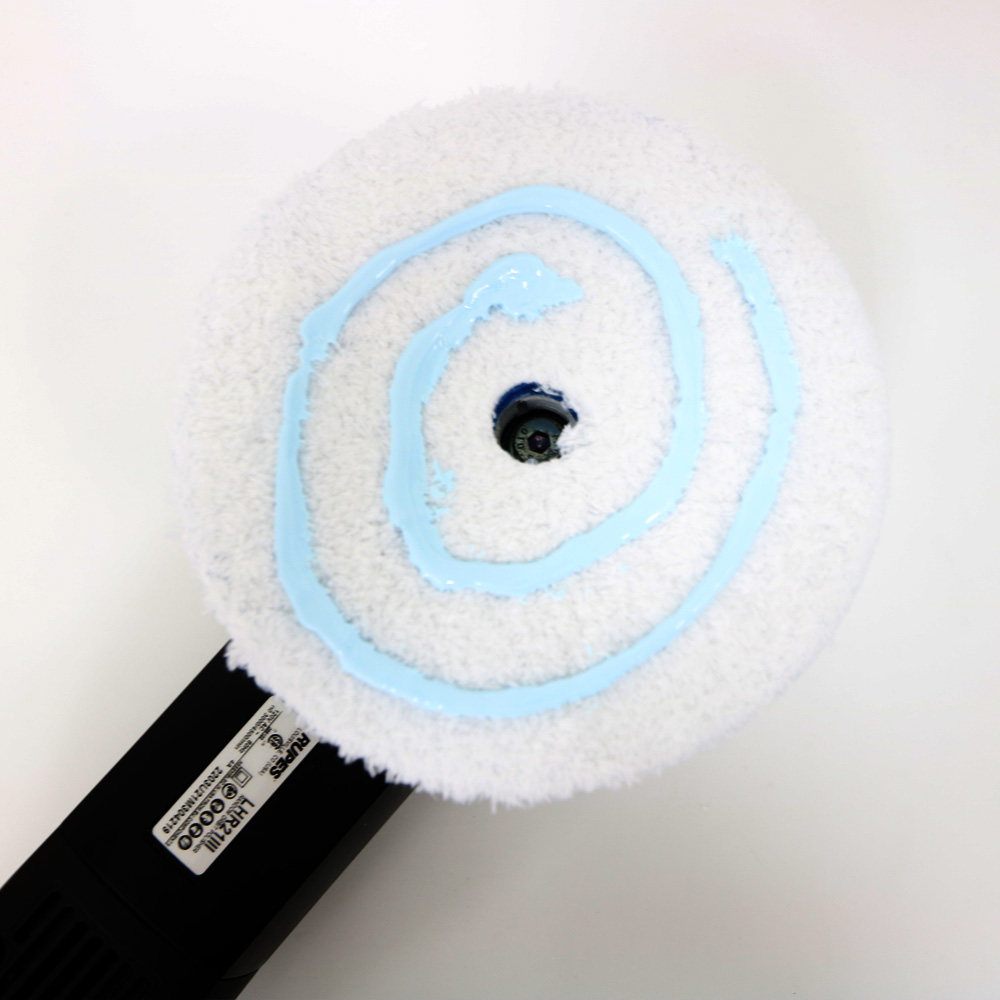 Wool & Microfiber Pads
1. Place the compound on the wool or microfiber pads in a thin spirl pattern one half inch away from the edge of the pad.
2. Set the speed of the polisher to "2".
3. Run the pad on the surface for twenty seconds, applying moderate pressure and keeping the pad in the same spot.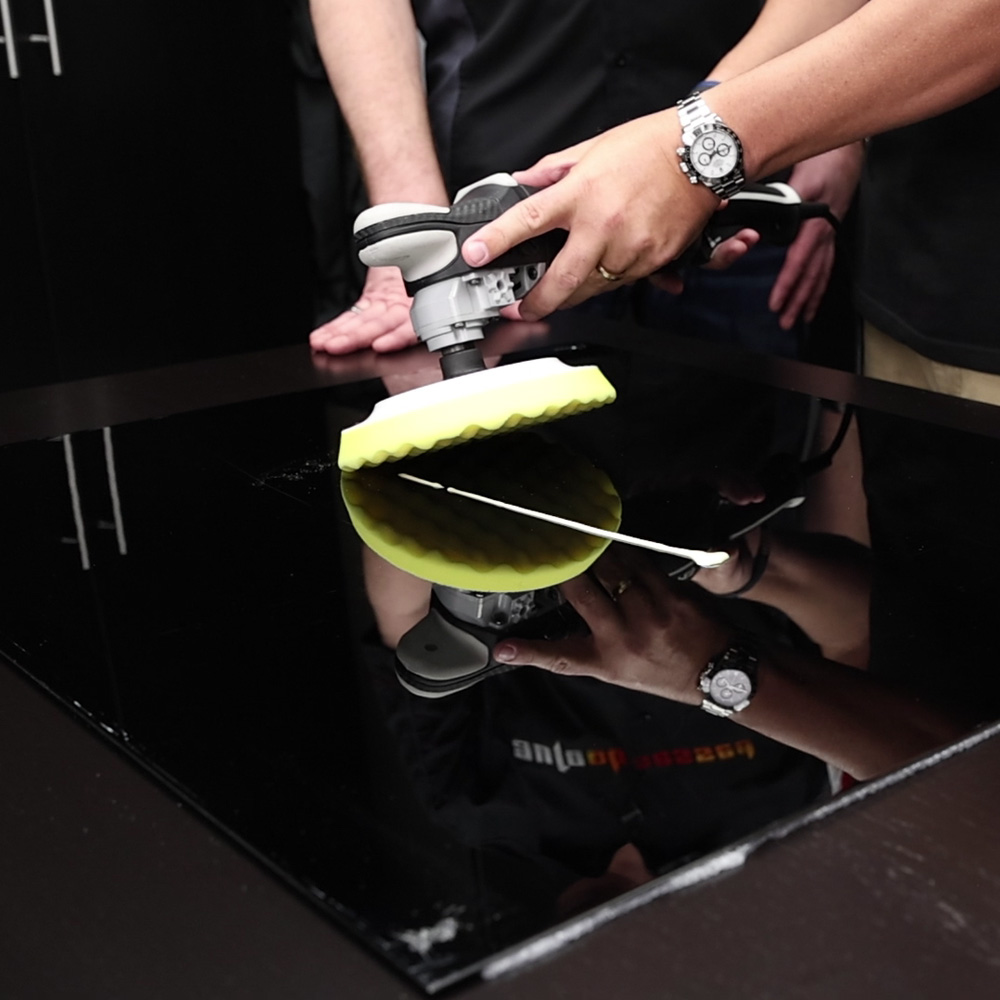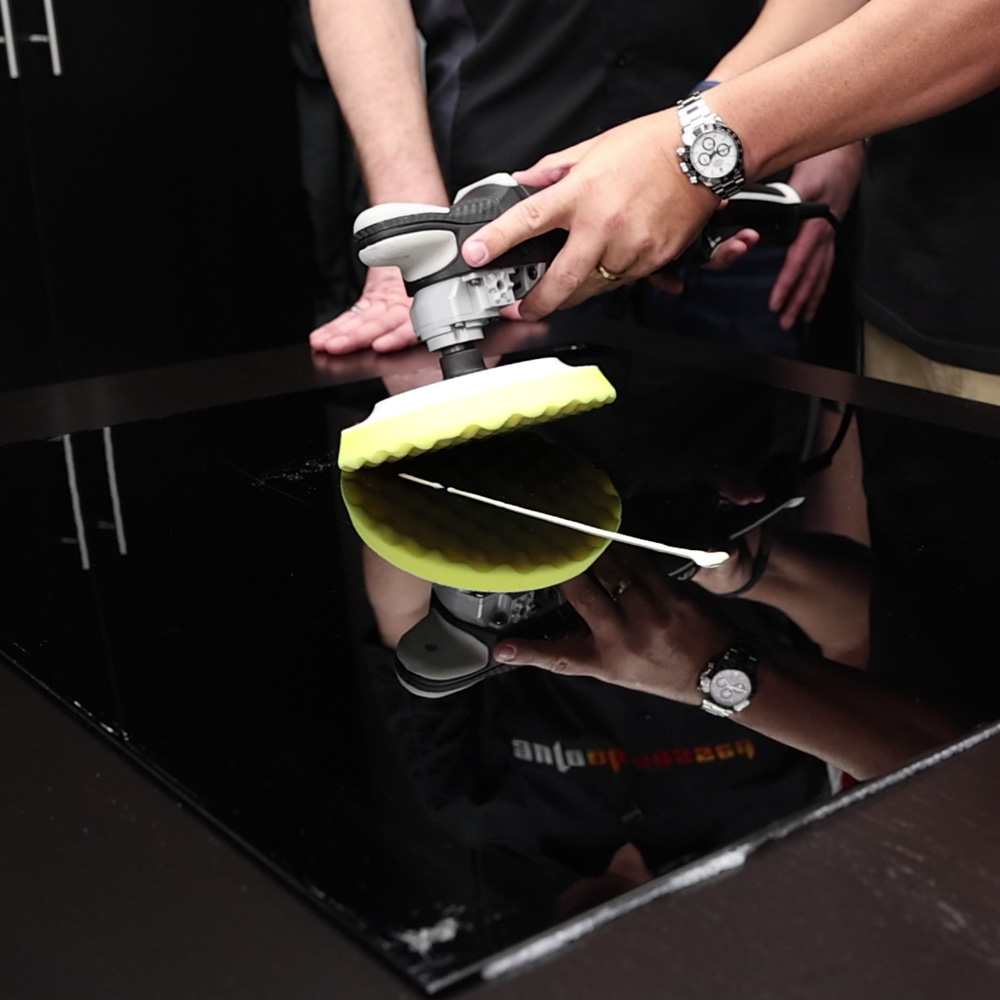 Rotary
1. Put a line of compound on the panel slightly larger than the diameter of the pad.
2. Set the speed of the polisher to "2".
3. Angle the pad and run the pad right to left picking up the compound on the upper two thirds of the pad and run the polisher to a speed of "3".
4. Once you have picked up all of the compound run the pad on the surface, face down, for twenty seconds.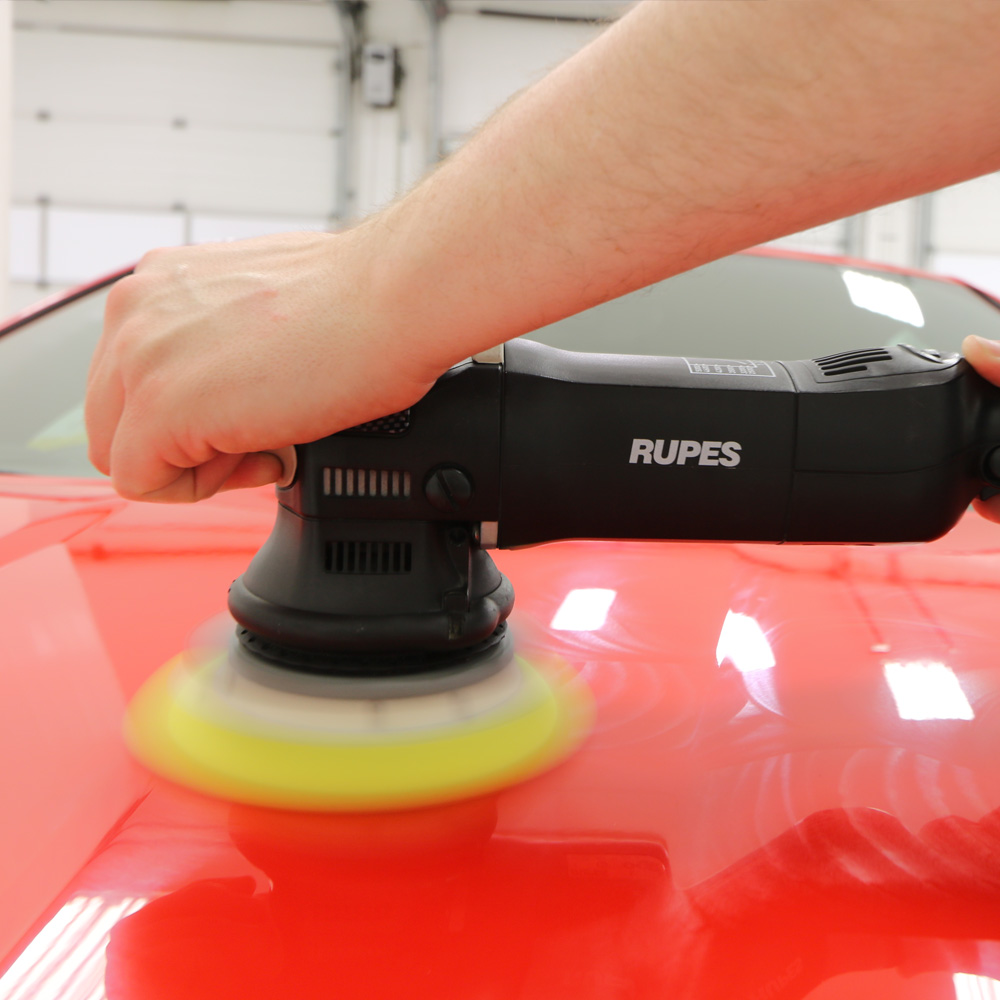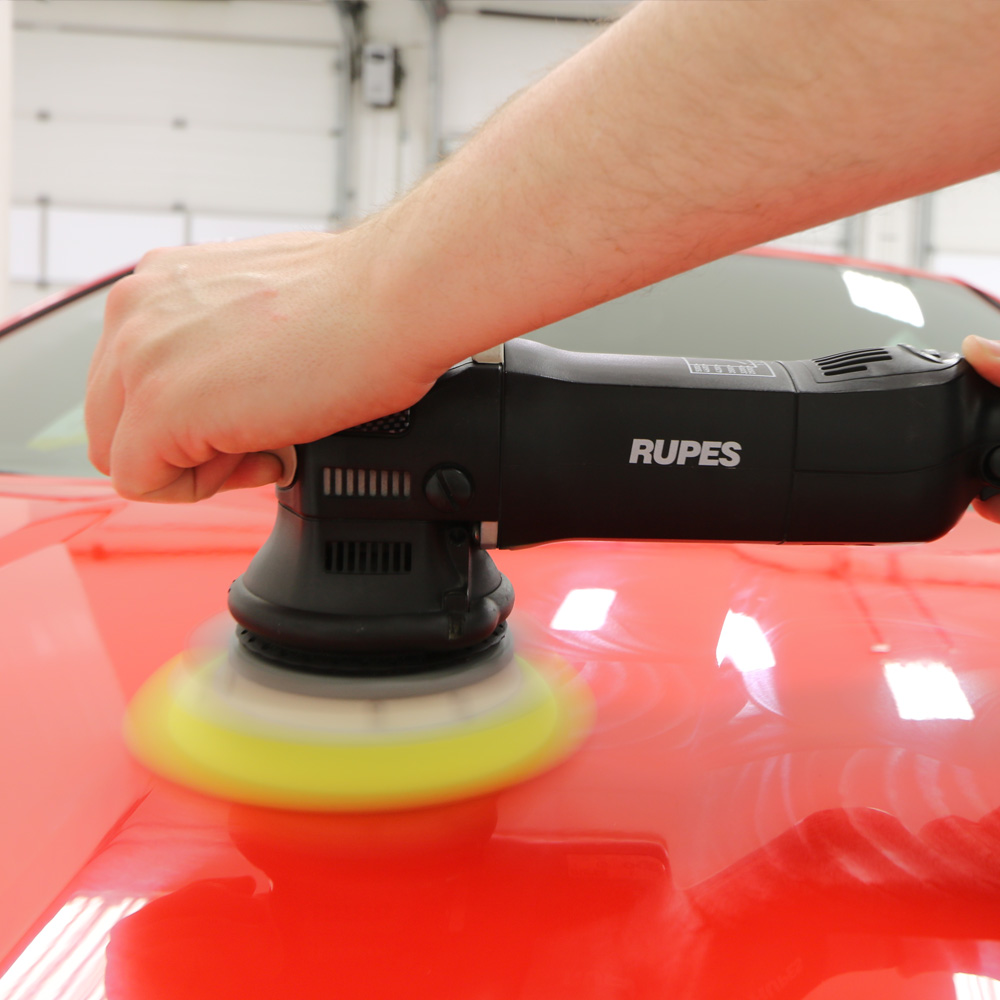 Testing a Spot
Test the pad and compound on a section of the panel that is six times the size of the pad (imagine a rectangle with six imaginary pads) and polish the area 2 - 3 times, slow arm speed in about 30-45 seconds on speed between 2 and 4.
After you have performed a test polish, adjust the pad and compound accordingly to the results.


PURCHASE HERE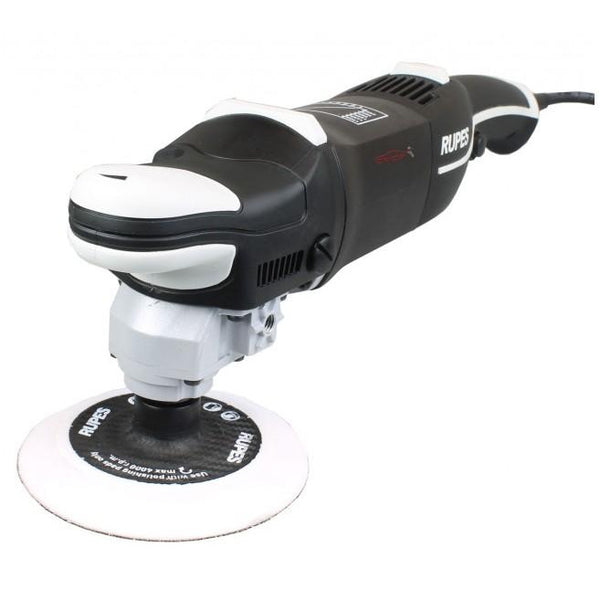 Rupes BigFoot LH19E Rotary Polisher
$485.00
Sold out
PURCHASE HERE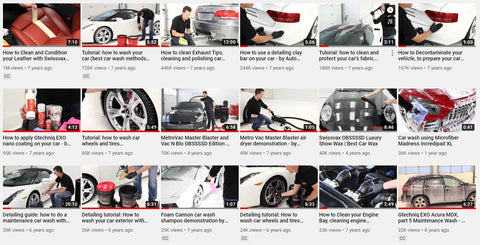 YouTube Channel
See the latest How-To Tutorials and New Products Reviews on the Auto Obsessed YouTube Channel.
Don't miss out on the latest news and tips, helping detailers get the best results. Click Subscribe and click the notification icon to be notified when a new video is released.
Subscribe Now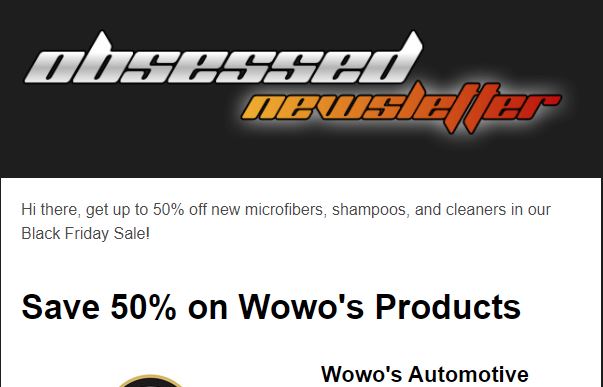 Subscribe to our Newsletter
Promotions, product updates, and best offers. Directly to your inbox.
Subscribe
is added to your shopping cart.